The Slip And Fall Lawsuit Process: Here Is What You Can Expect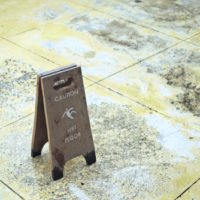 Many people think of a slip and fall as an incident from which you can get up and walk away. In reality, however, those people have never before been involved in a serious slip and fall. A slip and fall accident can be just as physically and financially devastating as a car accident. If you were involved in a slip and fall accident that left you injured and with outstanding medical bills, call the Miami slip and fall attorneys at Spencer Morgan Law to discuss your legal options and to learn more about what a slip and fall case entails.
What to Expect From Your Slip and Fall Claim
 After filing your claim, the property owner's insurance provider will likely reach out to you with a settlement offer. The goal of the property owner's insurance company is to minimize losses by trying to pay you as little as possible in damages. You should not accept the first settlement offer without first consulting with an attorney, because chances are that the first offer is for far below than what your case is worth. Your Miami personal injury lawyer can advise you on what your case is worth and negotiate for a better settlement on your behalf. If you, the insurance company, and your attorney can come to an agreement, you will all shake hands, sign the necessary paperwork, and move on with your lives.
Fortunately, many Florida slip and fall cases are settled out of court in this manner. However, there are some cases in which the defendant's insurance company and plaintiff cannot come to an agreement even after several rounds of negotiations. When this happens, the plaintiff may choose to file a slip and fall lawsuit.
What to Expect From a Slip and Fall Lawsuit
 When an insurance company refuses to offer a settlement that can fully cover the cost of a person's past and future medical expenses, lost wages, diminished earning capacity, pain and suffering, and other damages, that person's personal injury attorney may advise him or her to file a lawsuit. A lawsuit may be the plaintiff's only means of recovering the maximum amount of compensation to which he or she is entitled.
If you and your attorney decide that a lawsuit is the best path to recovery, your lawyer will file a lawsuit with the appropriate court on your behalf. Your lawsuit must allege the following:
That a dangerous condition existed;
That the property owner should have known or reasonably should have known that the dangerous condition existed; and
That the property owner failed to correct the dangerous condition or warn visitors of the dangerous condition.
The lawsuit should also assert the following facts:
The location of the injury;
How the slip and fall happened;
Who is liable for your injuries (the defendant); and
What injuries and damages you have suffered as a result of the incident.
Evidence in a Slip and Fall Claim
Slip and fall claims are difficult to prove, which is why the more evidence you have, the better. Though your attorney will advise you on what evidence is necessary, and even collect much of the evidence on your behalf, it is helpful to know what forms of proof that a judge and jury will look for. Those include:
Incident reports;
Eyewitness testimonies;
Medical bills, reports, and test results;
Photographs of your injuries and the scene of the accident;
A doctor's statement regarding your injuries and prognosis; and
Expert testimony.
When You Must File Your Claim or Lawsuit
Whether you want to file a personal injury claim or a lawsuit for your injuries, you must do so within a given timeframe. That timeframe is referred to as the statute of limitations. In Florida, the statute of limitations for filing a slip and fall case is four years, much longer than most other states'. That said, four years can fly by, and you do not want to wait until the last minute to bring your case to court. Ideally, the sooner you file your claim, the better off you will be.
At Spencer Morgan Law, our Miami slip and fall attorneys can help you gather the evidence you need to succeed in your claim. If you or a loved one was injured in a slip and fall accident in Florida, call our personal injury firm today to discuss your rights and legal options.
Resource:
leg.state.fl.us/Statutes/index.cfm?App_mode=Display_Statute&URL=0000-0099/0095/Sections/0095.11.html