The Main Causes of Truck Accidents in the United States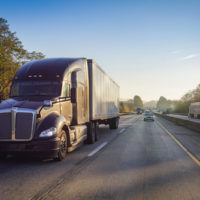 The most recent report from the Federal Motor Carrier Safety Administration stated that 4,889 large trucks and buses were involved in fatal motor vehicle accidents in 2017, up 9% overall from 2016. The percentage of fatal accidents involving at least one large semi-truck increased by 10% from 2016 to 2017.
These jarring statistics demonstrate that fatal accidents involving large vehicles are on the rise. If you or a loved one has been involved in an accident involving a large bus or semi-truck, you may be entitled to compensation through a personal injury lawsuit.
What Are the Most Common Causes of Truck Accidents? 
The main causes of Florida car accidents involving commercial truck drivers occur due to the commercial truck driver's carelessness or negligence. The following are examples of negligent actions on the part of commercial truck drivers:
The truck driver is fatigued;
The truck driver consumes drugs or alcohol;
The commercial truck needs to be repaired or better maintained;
The truck driver speeds on slippery or wet roads or does not use extra caution when driving in reduced visibility conditions;
The driver "jackknifes" when stopping too abruptly.
Federal and state regulations specifically address commercial drivers and many trucking companies impose additional regulations on their drivers. While these regulations won't prove that the driver who injured the victim acted negligently, they may provide the court with an inference of negligence, making it easier for the victim to prove his case.
Let Us Help You With Your Truck Accident Lawsuit 
The size and weight of semi-trucks make them especially dangerous vehicles when collisions occur. If a semi-truck jackknifes, it can take out multiple vehicles in one fell swoop. The statistics above show that fatal injuries occur frequently when a semi-truck is involved in an accident.
If you've been in an accident with a commercial truck, it is important that you seek legal representation immediately. In Florida, victims of truck accidents have two years to file their lawsuit or the court will bar the suit due to the statute of limitations. That means that if you desire to bring a lawsuit requesting compensation for your injuries, you need to do it within two years of the truck accident.
If successful, you or your loved one could recover the cost of your medical bills, physical therapy bills, the cost of the loss of your past, present and future income, home health care costs, other related medical costs and more. A Florida court may award you compensation for the pain and suffering you've experienced as a result of your injuries as well.
Let Us Help You Today
If you or a loved one experienced an injury resulting from a commercial truck accident, it is advantageous to hire an experienced personal injury attorney to help guide you through the process of seeking compensation. Contact the Miami truck accident attorneys at Spencer Morgan Law today for assistance with your case.
Resource:
fmcsa.dot.gov/sites/fmcsa.dot.gov/files/docs/safety/data-and-statistics/452366/ltcbf-2017-early-release-3-13-2019.pdf
https://www.smorganlaw.com/common-causes-of-semi-truck-accidents-in-florida/