Texting And Driving Laws In FL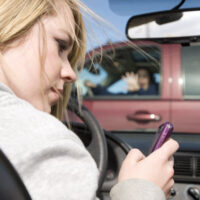 Because texting while driving is a known risk for accidents and crash injuries, there are laws in place to discourage drivers from participating in this risky form of distracted driving. For example, the Wireless Communication While Driving Law was enacted to help keep drivers, passengers, and others using Florida roadways safe.
When you connect with a Miami personal injury lawyer, your attorney can work with an insurance company to receive compensation. If a settlement offer is not high enough to pay off all of your accident expenses, your attorney may advise that it is time for them to file a civil case against the motorist. If the driver is charged with a crime, those elements of the event and any criminal penalties brought on the individual will be addressed through a criminal court. The personal injury case will be addressed separately.
Texting Is a Form of Distracted Driving
All forms of distracted driving are major accident risks in the state of Florida and throughout the country. Because of this, Florida enacted a law making it legal for law enforcement to stop drivers for texting while driving and issue them a citation. This law went into effect in 2019 and, as a result, it is also possible for police to  issue warnings to drivers holding digital communication devices in school zones and active work zones as well.
The penalties for breaking the law, often referred to as the Wireless Communication While Driving Law, will depend on the specifics of the situation, such as if you are a first offender or not. For instance, there is typically a fine of $30 and a requirement to pay court fees for first-time offenders. Repeat offenders will be facing license points and higher fines.
Using a Phone for Navigation Purposes
Of course, people have become so familiar with their phones that they use them for far more than texting with friends and family. There are times when a person is interacting with their device because they are using it to navigate their path from one area of South Florida to another. For this reason, there are texting while driving laws exceptions, including when an operator is receiving messages that are connected to their navigation apps an officer will likely not issue a citation.
That said, if a driver engaging with a navigation app leads to an accident, negligence could be proven. Everyone must be using their driving tools safely and properly. Discuss the details of your situation with a Miami personal injury lawyer.
Did someone you care about sustain injury because a Florida vehicle operator was texting while driving? Legal help is in reach, there are experienced personal injury teams with the skills and experience required to achieve the settlement you need to heal from an injurious event. An attorney can guide you through the damage recovery process, whether your claim is straight forward or complicated. Set up a meeting talk with the legal team at Spencer Morgan Law to learn more. Schedule your no-cost, confidential meeting today, call 305-423-3800.