Text Messages Could Be Used As Documentation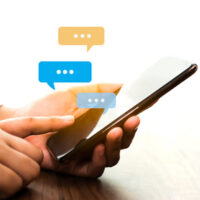 When you think of your text messages, you likely view them as a convenient way to connect with people in your life. Some people send short texts to let family members know where they are at and when they'll be home while others have long, entertaining conversations with friends. Because texting has become so common in daily life, it is easy to forget these short conversations can also be used as evidence in a Florida court of law.
In order to use texts as documentation, they often need to be disclosed. Navigating personal injury law is not always easy, but a Miami personal injury lawyer has the experience you need. Seasoned attorneys are familiar with how and when to disclose evidence, for example.
Work with an Attorney Who Understands Digital Evidence
The discovery phase is when each side of a dispute is gathering documentation and preparing to fight for their best interests. It is possible for text messages or social media posts to be used as evidence, this is true for criminal and civil cases. Personal injury cases are typically civil.
If you believe technology, messages, and digital footprints will be an important part of your case, be sure you are connecting with a legal professional who is up to date on how current technologies are used in court and how to secure the messages before they can be deleted or tampered with by the other party.
When messages are deleted or modified, the other party can call into question the validity of the texts as evidence. Take steps to preserve necessary data, including backing up digital devices and keeping old devices when upgrading to newer models.
Ways to Recover Deleted Information
If text or images that can buoy your case have already been deleted from your cell phone, all is not lost. There are ways to recover data. For example, you can restore backup files on iPhones, but you need to remember that data since the last backup could be erased in the process. Any digital retrieval should be done carefully and thoughtfully. The method of retrieval is key if the data will be a strong piece of evidence.
When you share your story with a Miami personal injury lawyer, they can determine if your case will require supporting documentation. And if the evidence needed is texts, posts, pictures, or videos from your phone or other mobile device. Technology makes communication easier in many ways, and it may help you achieve the damage recovery you deserve.
Are you thinking your personal injury case is going to involve supporting evidence such as documentation of social media posts or texts? Talk through your situation and how to strengthen your claim with the qualified attorneys at Spencer Morgan Law. There are many different forms of evidence, and a lawyer with extensive personal injury law experience will know what evidence is required and how to access it in order for you to secure a full and fair financial award. Call us at 305-423-3800 to schedule your first meeting.