Structure Of Personal Attorney Fees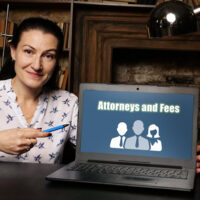 Needing money to settle expenses is one of the reasons individuals connect with attorneys. So it is natural to wonder what type of services you will access and how much those services will cost. While a seasoned attorney can give you a general idea of their fees, they will likely need to drill down on the specifics of your case to give you a detailed outline of possible attorney fees.
Not every situation is the same and the attorney fees for each case can vary. That said, an honest Miami personal injury lawyer will walk you through what fees are possible and let you know if they apply to your case, or not.
Complexity of Case and Level of Research
When connecting with legal representation, they will review your case to develop a strategy and determine how difficult the process will be. Attorney fees will likely be higher if the case is complex.
Case complexity could be due to the situation involving obscure laws, but in other situations a case will involve a lot of research and independent investigation. When an attorney needs to spend a lot of time digging into state statutes or researching laws in order to support your case, fees could be higher than they would be if a claim is clear cut.
Naturally, the level of experience could also impact attorney fees. Experienced attorneys charge more, but they also have more knowledge that could result in you obtaining the outcome you are seeking. It is always advisable to connect with a lawyer who has a background in the type of law you are pursuing.
For instance, some personal injury lawyers are specialized in motor vehicle collision cases. Others fight for the rights of individuals injured in car accidents and also work diligently to connect dog bite victims and individuals harmed due to faulty products with full and fair compensation awards.
Cost of Doing Business
And remember, just as any other business has expenses, legal offices have office spaces to maintain, staff salaries to pay, and technology expenses.
Do not be intimidated to talk to a Miami personal injury lawyer about their fees. Having all of your questions answered at an initial meeting is an important part of the process. It is normal to ask about the strength of your claim, how long it will take to resolve the issue, and monetary outcomes, including attorney fees and how much you will likely be awarded when the case is finalized. Contingency fees will be part of this discussion.
Is the cost of hiring an attorney holding you back from making the call? Understand that when you retain an attorney, they are working for you. It is a skilled lawyer's priority to make sure you are accessing a full and fair recovery package. Talk through your concerns with the qualified attorneys at Spencer Morgan Law today. Your initial consultation is free, and if you do move forward with legal action, we don't get paid until you do. Call us at 305-423-3800 to schedule your first meeting.