Storms Create Accident Risks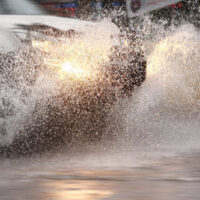 When storms and extreme weather strikes, it is essential drivers assess risks. Often, the best and safest thing to do is to stay off the roads. If you hear about a storm brewing on the news or see it out the window, consider calling your destination and letting them know you will be waiting the storm out. Naturally, there are times when that is not possible or you are already on the roadways. In those circumstances, do what you can to stay safe and do not drive as if weather conditions were optimal.
If you were involved in a collision because another driver could not see due to stormy conditions, talk to a Miami car accident lawyer. Car accident injuries, whether from storm conditions or driver error, can lead to high expenses and long-term distress. Damage recovery could help you and your family recover.
Dangers of Wind and Low Visibility
There are a variety of dangers when there is a storm and some of them are particularly acute for cars, trucks, and motorcycles on the road.
Strong winds can push a vehicle into another lane and prompt multi-car collisions.
Traction is reduced. When a person operating a vehicle cannot brake due to wet conditions, control of the vehicle is limited to impossible.
Standing water. What first looks like a puddle can be a much larger risk, hydroplaning can also happen.
Lightning flashes. Drivers can be temporarily blinded because of lightning flashes.
Visibility that is low. Dark conditions and sheets of rain can make it difficult for drivers to see hazards as they appear.
Plus, everyone on the road is assuming the other drivers are able to drive safely. But if there are inexperienced drivers or an individual is operating a vehicle under the influence, they may be unable to handle their vehicle in a safe manner.
Prevention Measures May Help Avoid Accidents
While it is never possible to completely avoid the possibility of an accident when driving in Florida, there are steps you can take to keep yourself and your passengers safe when you are commuting, running errands, or traveling to see family and friends. If a storm comes, slow down. Trying to maintain a speed that is comfortable during optimal driving conditions is risky when the weather shifts.
If you do not have headlights that respond to light conditions, turn on your lights when the weather darkens and give other vehicles space to maneuver. And if you are in a collision during a storm and have high medical expenses as a result, connect with a Miami car accident lawyer to understand what next steps are best given the details of your situation.
Are you recovering from an injury due to a weather-related event or a car accident prompted by weather? A knowledgeable Florida personal injury lawyer can help. With free consultations, our lawyers can determine if you have a right to damage recovery. We will cover your case from the beginning stages to securing final damage awards. Our attorneys at Spencer Morgan Law will fight for fair compensation. Contact us today at 305-423-3800 to schedule your free assessment.