Steps To Take After Slip Or Fall Injury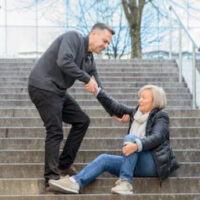 Injuries from a slip or fall can be serious. Some accident victims find themselves coping with painful fractures, back injuries, and head trauma. If the accident occurred because a property owner was negligent, the injured party has a right to compensation. After all, there may be high medical fees and other losses to address.
It is common for a property owner's insurance company to dispute a slip and fall claim. Or, if they don't deny it, they could attempt to pay you less than the full amount you deserve. A Miami personal injury lawyer knows what steps need to be taken in order to strengthen your personal injury claim.
Connect with a Medical Professional and Report the Accident
Seeing a doctor is important in order to treat your injuries efficiently and promptly. Plus, the record of the examination can be used as a piece of evidence that you were injured as a result of the slip or fall. After your doctor visit, follow the treatment plan. There have been examples of individuals who do not follow their doctor's orders only to find the insurance company using their failure to follow the treatment plan against them as proof they were not injured or not hurt as severely as the claim states.
Reporting the accident should also be a step you take. For example, if you fell in a business, let management know as soon as possible. If they file an accident report, or a law enforcement official is present and they file a police report, ask for copies.
Taking Photos and Recording Notes
One form of evidence that can be particularly helpful are photographs and videos. Images of bruises, cuts, and scratches taken in the moments following a collision are valuable. But even if you are unable to take images immediately, taking them as soon as possible is advised. Then continue to document injuries as they heal.
When you have clear proof, it becomes increasingly difficult for another person or their insurance company to claim an injury was not directly due to the event. A skilled lawyer may even be able to secure footage from security cameras in a store or parking lot.
While photos and videos are valuable forms of documentation, it is also beneficial to take notes. Write down exactly what happened and any details that contributed to the accident. If there was a drip coming from the ceiling, writing down where the drip was coming from is a way to have a record of it, particularly if the drip is later fixed or dries up on its own, after a storm ends, for example. Then, share your evidence with a Miami personal injury lawyer.
Did you fall or slip in a place of business and are now coping with a painful injury and ongoing medical expenses? An experienced attorney can help. Talk to the Miami personal injury attorneys at Spencer Morgan Law. We have experience proving negligence, negotiating with insurance companies, and taking cases to trial. Contact us today at 305-423-3800 to schedule your free consultation.