Speeding Is A Common Violation In Florida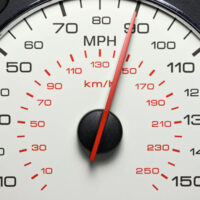 Each year, according to one report, Florida police issue approximately 700,000 speeding tickets. The reasons why drivers speed vary. Some drivers do not even realize they are speeding and are surprised when they see law enforcement lights in their rear view mirror. But other people are intentional speeders. They drive too fast because they want to make an appointment. Or, they know they have a tendency to speed but don't make any effort to adjust their habits.
Speeding is a form of aggressive, reckless driving and the results can be disastrous. Losing control of the vehicle is possible, and when accidents happen, injuries and high medical expenses can follow. If you were in a South Florida accident and want to discuss your situation with a legal professional, talk to a Miami personal injury lawyer.
Speeding Drivers and Standard Speed Limits
If you were the speeding driver, it is also important to note that a speeding traffic violation will go on your record in the state of Florida. Traffic violations have to be proven by the state beyond a reasonable doubt. An attorney can walk you through what options are possible and how to protect your future.
Traffic violations are issued because it is important for all drivers to follow rules in order to keep roadways as safe as possible. This includes driving at a safe speed. Standard, posted speed limits are assuming the conditions for driving are good. If there are poor conditions, you need to adjust your speed accordingly.
Standard speed limits in the state of Florida:
School zone speed limits are typically set at 20 miles per hour
Rural interstates and highways with limited access are typically set at 70 miles per hour
Residential areas or businesses areas are typically set at 30 miles per hour
Naturally, if there is a different speed limit posted you need to follow that limit. There could be an adjustment based on the circumstances of the surrounding area.
Traveling Above a Speed Limit Is Reckless
Because speeding is a form of reckless driving, that driver could be held liable in the event of an injurious accident. A representative from an insurance company could reach out to you and offer a settlement amount. Even if the amount seems high to you, be sure you talk to a legal professional to understand the full worth of your claim before signing off on any compensation amount. A Miami personal injury lawyer can help. A larger amount may be possible if you have a lot of property damage, have lost wages, and are facing extensive expenses.
Are you recovering from injuries sustained in a Miami accident caused by a speeding driver? A knowledgeable Florida personal injury lawyer can help. With free consultations, our lawyers can determine if you have a right to damage recovery. We will cover your case from the beginning stages to securing final damage awards. Our attorneys at Spencer Morgan Law will fight for fair compensation. Contact us today at 305-423-3800 to schedule your free assessment.