Someone Hit My Car And Left Without A Note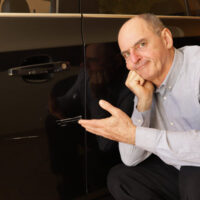 Seeing that your car has been hit as you leave a grocery store or your office is not uncommon, unfortunately. Too often parked cars are hit and the person who did the damage drives away. The damage that is left behind can be costly, repairs range from fixing as scratch to major body work.
If you are facing large expenses because someone hit your parked car and left the scene, talk to a Miami car accident lawyer. There may be a path to holding the negligent party accountable for their behavior.
Information to Provide Under Florida Law
There is information that a driver is required to provide in the event of a crash, one that causes damage to property. This is a legal requirement under Florida Statute section 316.062, a person who has caused damage to another's property has a duty to provide their name, their address, and the car's vehicle identification number (VIN).
If nobody is around to share information with when you hit a parked car, you are required to report the crash yourself. Either to a nearby police officer or at a local police department. If you do not comply, punishment could follow in the form of a fine or jail time.
But, not everyone knows these laws or understands the requirements, so damaged parked vehicles that are left behind continue to be a problem. If you walked up to your parked car only to see it was damaged, take the following steps to help you move past the event.
Gather photos of location.
Take pictures of your car and the damage to the vehicle.
Ask local businesses if they witnessed the event and collect their names.
Visit a professional auto repair shop to get an estimate of the damage.
Once you connect with a skilled accident lawyer, they can take additional steps, if needed. An attorney could check to see if there were surveillance cameras in the parking lot or neighborhood where the accident happened, for example. Requesting footage from a surveillance camera needs to be done as soon as possible, to be sure what you need is preserved. Many times, these requests for footage need to be done in writing. A Miami car accident lawyer can help.
Filing with Your Own Insurance Company
There are times when the person who did the damage to your vehicle can't be found and then therefore can't be held liable. In these situations it may be best to file a claim with your own insurance, particularly if you have uninsured coverage. While it can feel overwhelming to be facing a high auto repair, there may be a path to compensation.
Was your car damaged when someone hit your parked vehicle.  A skilled attorney has the experience needed to navigate legal complexities. You deserve justice and we work on a contingency fee basis. Call Spencer Morgan Law at 305-423-3800 for a free consultation.
Source:
leg.state.fl.us/Statutes/index.cfm?App_mode=Display_Statute&URL=0300-0399/0316/Sections/0316.062.html