Slow Drivers And Accident Risks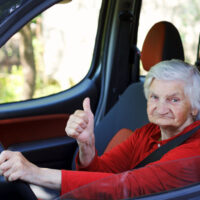 With fuel rising in price, some drivers choose to drive slow to increase fuel economy. Others drive slow because they are distracted by a mobile device. There are even drivers on the road who have always driven slow or find their speed has reduced as they age and have become more fearful around other drivers.
Accidents are possible when drivers are traveling too slow, drivers moving at an odd speed can interrupt the normal flow of traffic. Slow driver accidents can lead to injuries and property damage. If you are struggling with accident expenses, discuss your financial recovery options with a Miami personal injury lawyer.
Dangers of Scared Drivers
Being cautious and aware of your surroundings is an important part of staying safe on Florida roads and highways. But when people are scared to drive, they may slow down. They may believe they are being cautious, but slowing down can actually impede their ability to drive safely.
There are a lot of reasons why drivers may be scared to drive or are fearful of traveling at faster speeds. Examples of reasons drivers travel too slow:
Inexperienced driver is not accustomed to highway speeds
Someone with vision issues adjusts their speed lower because they are unable to see clearly
Older adults who are more comfortable traveling at a lower speed
Individuals who are unfamiliar with the area
Because Florida has many visitors, it is possible for residents to be involved in traffic collisions with people who are not familiar with the Miami area or are too interested in taking in the sights to pay attention to traffic risks. Particularly in busy areas, it is common for a person who does not know the streets to slow down a lot, possibly unintentionally, as they attempt to figure out Florida traffic patterns.
Avoid Tailgating and Aggressive Behaviors
Even if a driver is traveling too slow, they are not necessarily fully responsible should an accident occur. After all, other drivers need to react to other drivers in a responsible way, meaning they do not tailgate the slow driver or participate in aggressive behavior. So a short honk may be appropriate but laying on a horn, yelling, or driving aggressively around another driver is inappropriate. In short, you should give slow drivers space and be patient as you navigate the situation.
Determining fault is not always simple, but it may be part of the process. Discuss your situation with a Miami personal injury lawyer, they can handle insurance negotiations and will analyze your claim to be sure you will not be settling on an amount that is too low.
Were you hurt in a Florida accident caused by a slow driver? A skilled Florida attorney will work to secure the maximum settlement amount on your behalf while you can focus on your own physical recovery. Discuss the areas where you could use legal assistance with a member of the legal team  at Spencer Morgan Law. Reach out today and schedule your no-cost, confidential consultation, call 305-423-3800.