Slip And Fall Accidents And Serious Injuries For Miami Seniors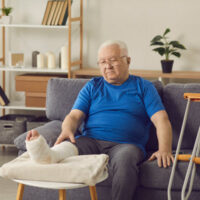 It is possible for anyone at any age to sustain an injury when they trip on cracked pavement or slip on an oily spill, but older adults are more prone to serious injuries when these events occur. South Florida seniors have been hospitalized after slip and fall accidents, and have required surgeries and may need to learn how to use assistance devices, from crutches or wheelchairs. Distress, worry, and financial hardship is also possible.
One estimate reports people who are 65 years old or older have a risk of severe injuries or death following a slip and fall accident that is twice as high as all other individuals, including people who work in hazardous injuries. It is important families coping with slip and fall injuries receive the financial damage recovery they need to cope with high expenses so they can focus on the important work of restoring a senior's health, when possible. To discuss your recovery options after a South Florida accident, connect with a Miami personal injury lawyer.
Torn Ligaments, Facial Injuries, and Hip Fractures
Some of the common injuries seniors sustain in slip and fall accidents follow. While it is possible for active, healthy seniors to be injured in accidents, there are also many situations when harm was exacerbated by an issue such as balance problems or decreased muscle strength.
Hip fractures
Sprains and strains
Torn ligaments
Neck injuries
Facial injuries
Broken bones
Spinal cord damage
Brain trauma
The treatment plan for seniors injured in slip and fall accidents can be long and complex, particularly if the individual was already coping with multiple health issues. There could be life-long physical therapy needs which will lead to years and years of expenses.
Reducing Fall Risks in the Homes of Older Adults
There are steps seniors and their families can take to reduce the risk of a slip and fall injury. For example, homes can be assessed and fall risks can be eliminated and support systems can be added. For example, an older adult may choose to get rid of throw rugs that are a tripping risk and add grab bars in their bathroom so they will not fall when exiting their shower.
But of course, it is impossible to control what happens in all public spaces. Commercial property owners have a responsibility to provide customers and visitors with safe spaces. So, if there is insufficient lighting that has led to an injurious fall, they could be held liable. If you feel a business is responsible for your fall and the hospitalization that followed, talk to a Miami personal injury lawyer. With legal guidance, resolution is possible.
Do you need financial relief after a South Florida slip and fall accident? If you are a senior who was injured due to another's negligence, the Miami personal injury attorneys at Spencer Morgan Law can help you move forward with a personal injury claim. There are no fees upfront. Connect with a legal professional today. Call us today at 305-423-3800 to schedule a consultation.