Should I Report A Minor Car Crash?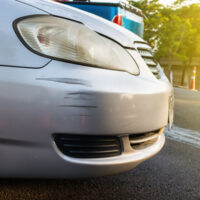 When you live in an active city like Miami, you are familiar with being out and about, either traveling to and from fantastic restaurants with family or enjoying an exciting nightlife with friends. Sometimes both in one day. But with all of this hustle and bustle it is an unfortunate reality that minor car accidents occur every day. When a collision is minor, it may be unclear what to do.
If you are unsure if your accident is large enough to warrant working with an attorney, talk to a Miami personal injury lawyer to be certain your rights are protected. Some fender benders lead to high costs, others are more of an inconvenience than an expense.
Report All Accidents Involving Injuries
It is a requirement that any vehicular accident that results in an injury is reported to law enforcement. Accidents that appear to have caused $500 or more in property damages also must be reported. These are the guidelines that need to be followed according to the law. To simply say everyone seemed fine will not protect you in the future. An accident injury that seems small may actually be an indicator of a larger health issue.
While many accident victims feel sore after a collision, it is also important to recognize that adrenaline surges can hide symptoms. Days or weeks later you may feel the full experience of your injuries from a minor collision. Having everything reported correctly can help you access damage recovery if you need it later and can shield you if someone involved in the crash files a case against you in the future. Because of this, law enforcement should be alerted and have a medical professional assess your health.
Insurance Companies May Not Prioritize Minor Collisions
There are times when an insurance company will make damage recovery after a minor collision difficult. You may experience delays. Then, they may make you a lowball offer or outright deny your claim. Do not be deterred, a legal professional can help you secure the financial recovery you need to pay your accident expenses when you have a legitimate right to compensation.
You do not have to navigate the personal injury claims process on your own. If you could use support, connect with a  Miami personal injury lawyer. Your attorney can gather documentation for you, including accessing a copy of the report from law enforcement. Then, they will negotiate a full and fair compensation amount so you can close the case with confidence.
Do you have compensation questions following a minor Miami accident? Set up a meeting with the legal team at Spencer Morgan Law. After answering your questions and reviewing the facts of your crash, your lawyer will let you know if legal representation could be a path to you reaching your post-accident goal. Lawyers know how much claims are worth and how to negotiate with claims adjusters. Our attorneys will fight for your rights, whether your accident was minor or major. Call 305-423-3800 to schedule a confidential consultation.