Securing A Settlement After A Miami Motorcycle Accident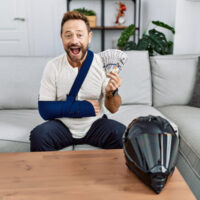 You may have friends or family members who have experienced navigating a settlement claim following a car or motorcycle accident. If so, they may give you advice on what number your claim could be worth after a Miami motorcycle crash. And while it is true that previous settlements can shine light on a claim's worth, it is only one factor to consider. There are other details to assess, including the level of injuries sustained, if there was property damage, and who was at fault.
Motorcycle crashes can result in high settlement amounts, but that is because injuries can be severe and the effects of a bike accident can be life long. This is because motorcycles do not offer the same protections to operators and passengers as cars do, there are fewer safety features in place. After a Florida motorcycle accent, you need a Miami personal injury lawyer
Evidence Can Help Secure a Maximum Payout
There are things you can do to increase the likelihood of a maximum insurance settlement after a Florida motorcycle or car accident, such as connecting with a legal professional as soon as possible and gathering evidence. Statute of limitations need to be kept in mind. Plus, the more time your attorney has to negotiate a settlement amount could lead to a higher amount.
Naturally, evidence could be an essential component to proving fault. But do not worry if you were unable to take pictures or talk to witnesses at the time of the crash. It is common for injured individuals to be consumed by their physical pain and emotional distress. A legal professional can gather evidence for you after the fact. For instance, talking to area businesses and accessing their security footage could lead to images of the accident site.
Thorough Medical Exams and Demand Letters
A demand letter is a letter your lawyer will draft and send to an insurance company letting them know what level of damage recovery is required in order to pay for medical bills, property damage, and emotional distress. To ensure the demand letter contains all of the financial recovery you will need, it is essential you have comprehensive evaluations of your health done prior to drafting the letter.
There may be accident injuries you are not aware of, such as a back pain you have been dismissing as being an indicator of a larger health issue. Once you have a detailed doctor's report, that can be used as evidence for your lawyer to demand compensation for current and future medical charges.
When you hire a Miami personal injury lawyer, you will have an attorney working for you, a skilled professional who knows how to secure a maximum settlement.
Do you have questions about the worth of your Florida accident claim? Connect with an experienced attorney and share the details of your motorcycle accident injuries to learn more. The Miami personal injury attorneys at Spencer Morgan Law can help. You do not need to try to prove fault and navigate negotiations on your own. Instead, connect with professionals. Contact us today at 305-423-3800 to schedule your free consultation.