Scooter Accident Injuries And Liability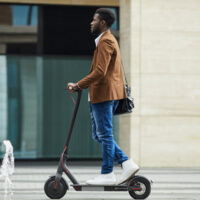 Because the weather is often pleasant in South Florida, many take advantage of electric scooters to travel to appointments and personal commitments. While Bird, Lime, and other companies that provide scooters to the public market these vehicles as enjoyable transportation alternatives that are less taxing to the environment, they rarely mention that there are also injury risks associated with scooter travel.
Whether you were injured as a scooter operator, car driver, or pedestrian in a collision involving an electric scooter, an attorney can help you determine who was liable and how to secure recovery. Determining the liable party and evaluating the worth of your claim is part of the process. Then, a Miami personal injury lawyer will share the best course of action to obtain the settlement you need.
Different Steps to Protect Yourself
There are things you can do to protect yourself from possible harm while operating a Lime, Bird, or different brand scooter. The following choices could shield you and others from scooter injures:
Don't operate an electric scooter on a sidewalk or pedway.
Wear a helmet and protective clothing.
Be aware of your surroundings and proceed with caution.
Look the scooter over before riding it, assessing if there is any damage.
Respect others on the road.
Only operate a scooter or other vehicle when sober and clear headed.
Of course, accidents happen even when people are trying to be careful. This is true of vehicular drivers, scooter operators, bicyclists, and pedestrians.
If you are hurt in a South Florida scooter accident, you should move forward with documenting the event just as you would with a car crash. This means reporting the collision to law enforcement, exchanging information with others involved, and snapping photos of the crash site, damage sustained, and injuries.
And seeing a doctor as soon as possible to have your health assessed is also part of your recovery, personally and financially. A doctor treatment plan needs to be followed so that you can heal properly, and that record of initial and follow up appointments will support your claim for monetary damages as well.
Scooter Rider Responsibility
While it is true that riders sign waivers and are responsible for the financial effects of their injuries, the insurance the scooter operator has may not be enough to settle all of the damages. Additionally, there are situations where a scooter did not function properly, and there is the possibility of filing a claim against the product manufacturer or designer.
The point is scooter damage compensation isn't always clearcut. But there are experts who can help, talk through your avenues to damage recovery with a Miami personal injury lawyer.
Is a liable party responsible for your Lime or Bird scooter injury? A skilled lawyer will compassionately listen to your questions and carefully answer all of your inquiries, including what deadlines and timelines need to be followed. To get your claim negotiated or to file a lawsuit, connect with the legal team at Spencer Morgan Law. Schedule your no-cost, confidential assessment, call 305-423-3800.