Rollover Crashes And Product Liability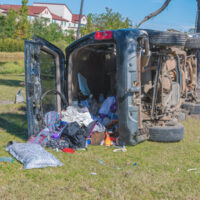 When cars roll over during a crash, the accident can be incredibly violent. Drivers and passengers have been ejected from vehicles and sustained major injuries. Fatalities are also possible. This is also true for individuals who are not ejected from the car or truck as the vehicle roof can crush in a rollover accident.
Rollover accidents happen for a variety of reasons. Head-on crashes are the only type of car collisions that have a higher likelihood of causing harm. While there may be multiple vehicles involved, rollover crashes may also only involve one vehicle. To determine your best path forward following a collision, connect with a Miami car accident lawyer.
Defective Designs and Tires Tripping on Road Conditions
Some vehicles are more prone to rollovers. For instance, sports utility vehicles have been known to tip because they are top heavy in their design. But just as there can be a variety of situations leading to accidents in any car crash, there are a range of reasons why vehicles rollover.
Driver is distracted
Vehicle design is faulty
Vehicle is not maintained properly
Bad weather creates hazards
If you were hurt in an accident because the vehicle you were operating had a manufacturing defect, a lawsuit could be possible. There may have been the need for a warning that was ignored. In these situations, a product liability lawsuit could be an option.
Or, there could be one part of a vehicle that is defective. If an SUV rolls  over because a tire was unable to stay intact during a reasonable change in the roadway, there could have been a defect in the tire design itself.
Liability Lawsuits are Complex
Because car accidents can be complex events, there may be multiple reasons the accident occurred. The accident could be attributed to a combination of factors, including weather conditions, driver distraction, and defective design of some car components. An experienced legal professional can help you determine what type of documentation is needed in order for you to obtain the damage recovery you and your family deserve.
Manufacturers of a tire that was designed with a fault could try to say the driver took a turn too fast and too sharply, so they are responsible for the bills and expenses incurred.
South Florida accidents lead to high expenses and life-changing harm. And while a Miami car accident lawyer can't change what already happened, they can help an accident victim and their family obtain a settlement amount that will allow them to obtain treatment.
Our attorneys at Spencer Morgan Law will fight for fair compensation. Contact us today at 305-423-3800 to schedule your free assessment.  We have experience proving negligence and dealing with insurance companies. Contact us today.