Risks of Driving During Peak Travel Times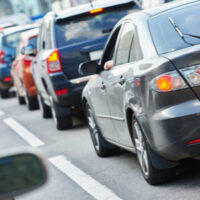 Rush hours, peak travel times when there are many cars and trucks on the road, can be dangerous times to be on the road. Thankfully, there are things you can do to avoid risks.
If you are regularly driving during rush hour in Miami, you may find yourself involved in an accident. If so, talk to a Miami car accident lawyer about the possibility of compensation for vehicle damages and medical bills. Of course, the best course of action is doing what you can to avoid collisions before they occur.
Driving Too Close During Rush Hour
For everyone's safety, it is important to have enough room between vehicles in the event of an unexpected change in circumstances while driving. But because rush hour is a time of getting to work or getting home, many are distracted by their destination. When drivers are in a rush, they tend to close the gaps between their vehicle and others. This can be extremely risky when someone abruptly turns or a truck slams on their breaks.
Plus, when a driver is running late or feels a lack of control, they are more likely to become impatient and irritable. Aggressive driving leads to snap decisions based on frustration and safe driving depends on a driver remaining calm.
When you are on the road remember that tailgaters create significant risks. Drivers who keep their vehicles too close to other vehicles can find themselves unable to move quickly if needed. So, do not tailgate yourself and let tailgaters pass you by.
Rush Hour Safety Tips
Driving a car that is well maintained is a good rule of thumb for anyone on the roads and it can be even more applicable for individuals who are driving daily. From there, opt for travel routes that are as predictable as possible, steering clear of sun glare or areas that are often congested and stressful.
A handful of other safe driving suggestions:
Position mirrors so that you can see your surroundings.
Stay alert and aware of other vehicles.
Remain calm and do not participate in angry driving behaviors.
Avoid sun glare with visors and polarized sunglasses.
Follow all traffic signals and signs.
Pay attention to speed limits.
And as tempting as it can be to switch from lane to lane searching for the fastest path, the reality is sticking to one of the middle lanes is safest. From there, you will go as fast as the traffic flow allows and sidestep the risks of drivers who dart in and out of narrow gaps trying to shave a few minutes off of their travel time while increasing their risk of a collision.
Were you injured in an accident during rush hour? If so, you need to talk to an experienced, knowledgeable personal injury lawyer to discuss your options. There may be compensation available for doctor bills, vehicle repairs, and lost wages. Our attorneys at Spencer Morgan Law will fight for fair compensation. Contact us today at 305-423-3800 to schedule your free consultation.
https://www.smorganlaw.com/when-to-take-an-ambulance-after-a-car-accident/