Reasons To Talk To An Attorney Before Accepting A Settlement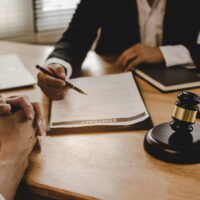 If you have been hurt in a  Florida accident, or suffered property damage, you may be entitled to compensation from your insurance company. While the process may be introduced to you as one that is complete, it is important to bring any questions and concerns you have to a Miami personal injury lawyer,
After all, it could be the insurance company itself that is telling you they are offering you a fair recovery, but they also are a business that needs to protect their bottom line. An experienced attorney can provide you with an array of expertise, such as helping you understand your rights, negotiating a fair settlement, and ensuring that you receive the recovery you deserve and need.
Evaluating Your Insurance Claim and Negotiating a Settlement for You
Once you connect with an attorney you trust, they will evaluate your claim and review the insurance policies connected to your damage recovery. The facts of your case will influence the amount of compensation you are entitled to receive. After a full assessment, the lawyer may find evidence of an insurance company offering you a low settlement amount to avoid paying the full value of your claim. When this happens, your attorney will begin a negotiation process in order to achieve a fair settlement that covers all of your damages and losses.
Even when you have had helpful conversations with insurance adjusters or other insurance company representatives, it is essential to keep in mind that Insurance companies are businesses. As a result, they are focused on minimizing their costs, and doing this may mean they do not have your best interests in mind. A lawyer will push back on reductions or denials to ensure that you receive the maximum compensation amount available, as well as providing you with legal representation if your claim goes to trial.
Protecting Your Legal Rights Throughout the Claims Process
There are many tactics that insurance companies and other claims professionals use during a claims process, such as delaying, denying, or avoiding settlement responsibilities. Your Florida lawyer will be familiar with your case after a period of careful research, they will work to ensure that your insurance company is acting in good faith and will shield you when legal action is taken against you by the insurance company.
If you are struggling to heal from an accident injury, illness connected to negligence, or extensive property damage, it is important to talk to a Miami personal injury lawyer before accepting a settlement, particularly if you believe what is being offered to you is not fair or just. With an experienced attorney by your side, you can receive the compensation you deserve for your damages and losses.
Who is helping you with your insurance claim questions? Contact a seasoned Miami attorney to learn about how they can help you with your insurance claim. The legal team at Spencer Morgan Law has legal knowledge and insurance settlement skills you can lean on when seeking a maximum settlement amount. Call 305-423-3800 for a fee-free, confidential assessment.