Reasons For Florida PIP Claim Denials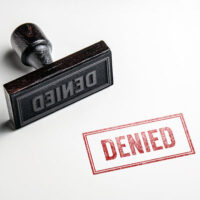 When you purchase car insurance and make regular payments each month, you are doing so with the assumption that you will be covered if you are involved in a Florida collision. Of course you want to avoid having medical fees to pay and experiencing wage loss due to an accident injury, but if harm is sustained insurance claim settlement can provide financial support, unless your claim is denied.
If you have been denied compensation and are unsure where to turn, bring the facts of your accident injury and claim to a Miami personal injury lawyer. Before hiring an attorney, be sure to ask about their experience filing appeals after Florida claim denials. You want to connect with an attorney who has secured favorable outcomes in situations simpler to your own.
PIP Coverage and Denial Circumstances
In the state of Florida, drivers are required to carry personal injury protection coverage, commonly referred to as PIP. A minimum of ten thousand dollars of coverage is set for these no-fault policies. PIP is designed to payout on expenses, regardless of fault. 80% of medical expenses and 60% of income loss is typically included in PIP coverage.
That said, there are situations in which a PIP claim will be denied, such as the following:
Injured individual did not seek care from a licensed healthcare provider within 14 days of the accident.
Care was administered, but not by a licensed provider.
There is evidence of the harm being sustained due to an event other than the car accident.
Treatment for harm was not necessary, given the diagnosed health issue.
Driver was under the influence of drugs or alcohol.
Illegal activity was at play, such as the driver operating a stolen vehicle or being in the process of committing a felony offense when harm was sustained.
A pre-existing condition is connected to the medical care, not the accident itself.
Receiving a denial letter for any reason can be distressing, but it is important to take action without delay, there is likely a set timeline in which you are able to file an appeal.
Appealing a PIP Claim Denial
Because a denial letter will contain information on why your claim was denied, it may be possible to compile more evidence to clear up any confusion. But it is important to follow the procedure with attention to every detail, including what deadlines need to be followed and what documentation needs to be shared.
You do have legal options after a claim is denied. An appeal could lead to the outcome you are seeking, and if not, an insurance denial lawsuit could be explored. There are situations in which an insurance company has made a mistake denying a claim or was operating in bad faith. Protect your rights, have a conversation with a Miami personal injury lawyer.
Have you received a denial letter from your insurance company? If you believe you have a right to access monetary recovery, talk to a legal expert about filing an appeal. The legal team at Spencer Morgan Law can help. Call 305-423-3800 for a confidential assessment.