Protecting Yourself From Slips and Falls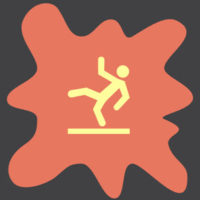 Slips and falls may seem funny, until you are injured by one. While some incidents are minor, others can cause head trauma, back and neck pain, broken bones and other painful injuries. These injuries can cause permanent disability and long-term pain and suffering.
While there's not much you can do if you are injured in your home by your own carelessness, a slip and fall caused by someone else's careless behavior—such as in a premises liability case—can result in a lawsuit.
A lawsuit can hold the business owner or property owner responsible for their actions. You would be able to recover compensation for medical bills, lost wages, pain and suffering and other damages.
The best way to avoid all of this is to protect yourself from slips and falls in the first place. Here are some tips to stay safe at home and in the workplace.
Slip and Fall Prevention in the Home 
Fall prevention is important for everyone, but especially seniors. The elderly are often prone to mobility issues and take multiple medications that can affect their balance. Here are some ways to stay safe:
Eliminate hazards. Boxes, cords and rugs are trip hazards. Any spilled liquids or food should be cleaned up promptly. Damaged flooring should be repaired.
Add lighting. Falls are more likely to occur if you cannot see well. Put lamps in frequently used rooms. Add night lights to hallways and bathrooms. Turn on lights before going up or down stairs. Have flashlights readily available in the event of a power outage.
Arrange your furniture if needed. Keep chairs and tables out of walkways. Make sure rugs are secure and out of the way. Keep sofas at the right height.
Avoid reaching. Keep items that you regularly use within reach. Avoid having to reach or use ladders.
Stay active. Physical activity can improve agility and strength, making falls less likely to occur. 
Slip and Fall Prevention in the Workplace 
Accidents can also happen in the workplace. If you are an employer, protect your employees by keeping these safety tips to keep in mind:
Train employees about safety issues. Employees should know about common issues and how to prevent them.
Remove snow and ice from sidewalks and other outdoor areas. Be especially wary in winter weather.
Make sure flooring is maintained. Any damaged carpets and floors should be fixed promptly.
Clean up spills promptly. If you cannot get to an issue right away, put out a "Wet Floor" sign to warn others.
Keep clear documentation. If you perform inspections or must handle a slip and fall incident, be sure to document it in writing. 
Contact a Miami Personal Injury Lawyer Today 
Slips and falls can cause serious injuries. Some people have even died from falls. If your slip and fall was caused by someone else's negligence, you may be able to seek compensation in a lawsuit.
The Miami slip and fall attorneys at Spencer Morgan Law are skilled at handling premises liability claims. To schedule a free consultation, call (305) 423-3800 or fill out the online form.
Resources:
hnationwide.com/slip-and-fall-accidents.jsp
mayoclinic.org/healthy-lifestyle/healthy-aging/in-depth/fall-prevention/art-20047358