Preventing Construction Accidents in Miami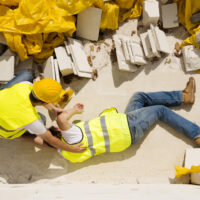 The construction industry has a great impact on the economic growth of our nation. Without this industry, we'd have no infrastructure such as buildings and roadways. Although the construction industry is an important one, it's also a risky, yet dangerous one, often resulting in construction accidents and sometimes death in Miami.
OSHA's Fatal Four for the Construction Industry
According to the Occupational Safety and Health Administration (OSHA), there are four primary causes of construction worker deaths. The "fatal four" by OSHA includes:
Falls
Electrocutions
Struck by objects
Caught in or between objects, equipment, and structures
OSHA's common statistics page reveals that the above reasons contributed to more than half of construction worker deaths in 2017, as reported by the Bureau of Labor Statistics.
How to Prevent Construction Accidents
Everyone, from supervisors to employees need to take safety precautions to prevent construction accidents. This means following the guidelines established within the industry, adhering to safety best practices, and being mindful of inspections when they take place on the construction site.
When construction sites fail to meet OSHA's standards concerning safety, OSHA will cite the standards. The below are some of the most cited standards that were violated by construction sites in 2018:
Eye and face protection. Far too often do construction workers fail to protect their eyes and face. If you see a co-worker without face gear, speak up and remind him or her to wear the protection. Doing so is a life saver.
Additional violations include:
Ladders.
Fall protection.
Respiratory protection.
Machinery and machine guarding
Some of the injuries that occur on construction sites are preventable. While OSHA attempts to offer chances for these mishaps to be corrected before they arrive on scene, unfortunately many more injuries occur on construction sites in Miami. OSHA makes it a point to publish the standards and statistics so construction workers can be aware of the issues surrounding safety. Following the safety precautions saves lives.
What do I do if I see Unsafe Work Conditions?
Whether you're a site manager or new employee, it's your job to make sure the construction site is safe. If you notice unsafe or dangerous work conditions while working on a construction site in Miami, you should document the situation and report it to your supervisor and or employer. In the event you need to take additional steps, you can always file a complaint with OSHA, yourself.
Are you suffering from injuries while working at a construction Site in Miami?  Call Spencer Morgan Law.
If you or someone you know is suffering from injuries due to a construction accident, be sure to schedule a confidential consultation with Spencer Morgan Law at 305-423-3800. Our Miami construction accident attorneys will review your case and offer advice on the best options for gaining the full amount of compensation you deserve for the harm done to you. We are available to take your call 24 hours a day and there is never a fee or cost to you if we do not obtain a recovery.
https://www.smorganlaw.com/top-5-mistakes-you-can-make-after-a-workplace-accident/