Parasailing Injuries And How To Stay Safe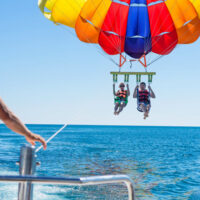 Miami's picturesque beaches and crystal-clear waters attract adventure enthusiasts, and parasailing is a thrilling water sport that offers breathtaking views from above. While it is a popular activity choice for tourists and locals alike, parasailing does come with risks.
Parasailing is an exhilarating activity, but it is essential to take steps to minimize the risk of accidents. And even when safety measures are in place, injuries can still occur from time to time. If you believe another is responsible for your parasailing injury and you want to hold them financially accountable, connect with a Miami personal injury attorney.
Understanding Parasailing Injuries
When a person says they are parasailing, they are saying they will be harnessed to a parachute and towed behind a boat while airborne. Parasailing can be an incredible experience, but there are also dangerous factors that can lead to injuries. For instance, if there are faulty or poorly maintained harnesses and ropes, accidents in mid-air are possible.
Skilled boaters are an essential part of parasailing because they need to be able to handle the vessel safely and communicate to others involved in the excursion. Also, if there are strong winds, sudden gusts, or storms, a seasoned boat operator will know how to monitor the weather and make the appropriate call to cancel an outing, if necessary. This is important as bad weather consideration can make parasailing especially risky.
Staying Safe While Parasailing in Miami
Following essential safety guidelines when parasailing is crucial to minimize the risk of injuries. Before embarking on your Miami parasailing adventure, keep the following safety tips in mind.
Choose a reputable company. Research parasailing companies, such as reading reviews and asking for recommendations from others. and choose an organization with a solid reputation for safety and professionalism.
Watch the weather. Always be aware of the weather conditions before your scheduled parasailing session, and consider rescheduling if there is adverse weather in the forecast.
Wear the right gear. Ensure you have the proper safety equipment, including life jackets and harnesses, and make sure all equipment is in good condition and fits properly.
Understand the dangers. During the safety briefing provided by the parasailing company, listen carefully so you understand the risks involved and ask any questions you may have before participating in the outing.
Observe restrictions. Be aware of any weight limits or health restrictions and follow them. This means informing operators of any pre-existing health conditions that could affect your safety during the activity and being honest about your weight.
Board a safe boat. Ask about the boat towing you and be sure it is operated by a licensed captain who follows safety regulations.
Parasailing in Miami can be a way to make wonderful memories, but it's essential to prioritize safety to avoid potential injuries. If you were hurt while on a parasailing excursion, connect with a Miami personal injury attorney.
Are you hoping to secure financial relief after incurring parasailing injury expenses? Connect with the legal team at Spencer Morgan Law. Call 305-423-3800 to schedule your fee-free consultation.