Negligent Use Of Jet Skis In Florida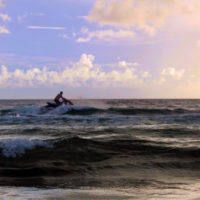 Florida is a prime destination for vacationers from all over the globe, offering beautiful beaches, rich everglades, and warm weather, all of which can hardly be found anywhere else in the world. Tourists come to enjoy the same recreational activities on and off the water that Florida residents have at their disposal all year long.
In general, people tend to flock to the beaches and the sparkling blue waters. Jet skis are a common activity for residents and tourists alike, and as the use of personal and commercial watercraft increases so too does the possibility of serious bodily injury or death. If you or a loved one was injured in a personal watercraft accident, contact an experienced Miami boat accident lawyer to ensure you receive the fairest possible compensation.
Setting the Stage for Negligence
 Negligence is a common term that is easily understood by many but that can be difficult to define or even prove. Negligence is the legal standard used to determine whether or not someone's actions caused someone else's injuries and what the appropriate course for compensation would be, if any.
In order for someone's actions to be considered negligent, it must first be proven that there was a duty owed by the operator of the watercraft to the person that was injured. The duty of a watercraft operator is similar to that of the driver of any motor vehicle, who has a duty of care to other drivers, pedestrians, and passengers. Operators of personal watercrafts have a duty to uphold the safety of those enjoying the water around them.
Establishing "Reasonable Prudence"
If negligence can be established, the court must then establish the standard of care to which the defendant is being held. In Florida, motorists have a duty to operate vehicles in the same manner as any other reasonably prudent person under the same or similar circumstances. An easy question to ask when determining whether or not a Florida boat operator's actions constitute as negligence would be: did the operator of the watercraft control it in a way that another reasonable person would have?
In cases involving children operators, one might assume that the child would be compared to another of the same age, skill level, and experience. However, Florida recognizes that a child is taking part in an inherently adult activity and can be held to the same standard as an adult motorist. As a result, children in Florida do not receive the same slack for such cases that they may receive in some other jurisdictions. The evaluation of this duty will establish the standard of care, and when the standard of care has been established, the plaintiff must then prove that the defendant breached the duty.
Proving Causation and Damages
Next, the plaintiff must show that the defendant's breach of duty was the actual and proximate cause of the injuries. In other words, if the defendant had not breached his or her duty, then the injuries would not have occurred at all. Additionally, the types of injuries acquired must have been foreseeable when the defendant breached his or her duty.
Lastly, as with any personal injury case, the plaintiff must prove that he or she suffered damages. The damages can be physical or economic in nature, or both, such as medical bills or future earnings, or they can be damages for pain and suffering.
Contact a Miami Boat Accident Lawyer With Experience in Handling Jet Ski Accidents
If you or a loved one has been involved in an accident involving a jet ski or other personal watercraft, contact the Miami boat accident lawyers at Spencer Morgan Law as soon as possible. You may be entitled to compensation, but just as with any personal injury claim, you have limited time to make a claim. Contact our law firm today to schedule your free consultation.
Resource:
law.cornell.edu/wex/negligence