Negligence and Tattoo Infections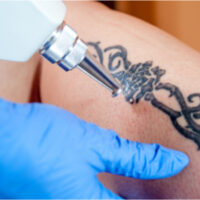 Tattoos are a popular form of body art, but they can become infected. The reasons for infection can vary. If the infection was because of improper hygiene practices, you may be able to file a lawsuit against the tattoo parlor.
In some cases it is possible to recover damages, but in other instances it is not possible. You need a qualified attorney to assess your case if you feel a tattoo parlor was negligent. Talk to a Miami personal injury lawyer to understand your options.
Tattoo Infections and Proving Negligence
If a tattoo is infected negligence would have to be proven. The infection itself does not prove negligence, it needs to be illustrated that basic hygiene and safety measures were not in place.
Basic safety measure examples:
Disinfecting the work area regularly.
Using new or clean needles for each client.
Hygiene practiced throughout the facility.
Keep in mind that a waiver was likely signed before the tattooing. In most instances the waiver will contain language stating the tattoo parlor is not liable for any issues that would arise. In most cases, these waivers are enforceable. That said, sometimes they are not properly worded. A Miami personal injury lawyer can review any waiver signed and help you to understand your options.
If the waiver holds, an individual has to prove a tattoo artist was purposefully working in a manner they knew was dangerous. It would then need to be proven their negligence was the cause of the infection and not connected to your own actions. So, if you did not take the steps recommended to avoid infection, responsibility could shift.
How Damages Are Calculated
Under Florida law, there are certain ways damages are calculated in a personal injury lawsuit. Economic damages are compiled, which can include expenses connected to medical needs and income loss if a tattoo infection prohibited you from working. Pain and suffering damages are more subjective than a financial number that can be tallied. Subjective damages are connected to what type of compensation might be available for aches, pains, and reduced quality of life.
If you have decided you want to move forward with a filing, keep Florida's statute of limitations in mind. This is typically four years from when the injury occurred. So, for a tattoo infection, the timeframe would begin when you discovered the injury. In this instance, the infection.
Even though four years may sound like a long time, it is important to not delay. Contact a personal injury lawyer as soon as possible to get the claims process started. Then all documentation and evidence will be timely and processed accordingly, strengthening your case.
Do you have a tattoo that is infected? Is the tattoo parlor to blame? Talk to a knowledgeable personal injury lawyer to discuss your path to compensation. There may be compensation available for medical bills, lost wages, and pain and suffering. The Miami personal injury attorneys at Spencer Morgan Law will fight for fair compensation. Contact us today at 305-423-3800 to schedule your free consultation.
https://www.smorganlaw.com/when-to-take-an-ambulance-after-a-car-accident/