Miami Truck Accidents Caused By Bad Weather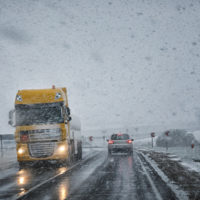 As summer gives way to fall, it is important to start thinking about weather related accidents and what they mean for victims. Unfortunately, truck accidents are all too common in Florida as the seasons change, which is in large part due to the extreme winds the state receives as warm weather gives way to cold and vice versa. While truckers cannot control Mother Nature, they are still liable when they lose control of their rigs in bad weather and cause an accident. Truck drivers are trained to handle poor weather conditions, and to know when to slow down or get off the road. If extreme weather gets the better of them, it is likely because they did not use their better judgment.
At Spencer Morgan Law, we understand commercial trucking regulations and standards better than most. If you or a loved one were injured in a truck accident in Miami that was indirectly caused by bad weather, you may be entitled to compensation. Reach out the Miami truck accident attorneys at our law firm today for a free case review.
Truck Driver's Duty of Care 
Just like business owners, truck drivers have a standard of care that they must uphold to other passengers. According to the Federal Motor Carrier Safety Administration's regulation 392.14, truck drivers must demonstrate extreme caution when operating a commercial vehicle in hazardous conditions. Hazardous conditions can be anything caused by snow, sleet, fog, ice, mist, rain, smoke, dust, or any other conditions that adversely affect visibility and road conditions. Additionally, speed must be reduced when hazardous conditions are present, and if conditions become sufficiently dangerous, the truck driver must cease to operate the vehicle until it can be safely operated.
These standards sufficiently explain that if conditions get bad enough, the truck driver has a responsibility to other drivers on the road to stop the vehicle until conditions improve. If the driver fails to do so, they may be held liable for any injuries or losses sustained in an accident caused by severe weather.
"Profits Over Safety" is an All Too Common Theme
 Unfortunately, too many truck drivers operate with the mantra, "Profits over safety," and are unwilling to stop their rig for any conditions short of fatal. Pressure to meet time schedules and to deliver a load on or even ahead of schedule convinces many drivers to keep going despite how dangerous the roads may be. When accidents do occur, the truck driver might try to blame bad weather, but the truth is that they had a duty to get off the road if they felt conditions were beyond their control.
If you or a loved one was injured in a truck accident in Miami caused by bad weather, you may need an experienced personal injury attorney to investigate the accident and fight for fair compensation on your behalf. A truck accident can be complex so it is important to the outcome of your case that you work with an attorney who understands commercial driving regulations and what evidence is necessary to ensure the liable party is held financially responsible.
Work With a Knowledgeable Miami Truck Accident Lawyer
At Spencer Morgan Law, our experienced personal injury attorneys have helped hundreds of clients obtain the compensation they need to recover comfortably after an accident left them injured and unable to care for themselves. Proving liability in any accident is often a difficult and complex task, but with our knowledge of the law, negotiation skills, and trial experience, we can make sure that you walk away with a more than fair settlement. To schedule a free consultation today, contact us online or by phone today.
Resource:
fmcsa.dot.gov/regulations/title49/section/392.14