Miami Scaffold Accidents Increasingly Common Occurrences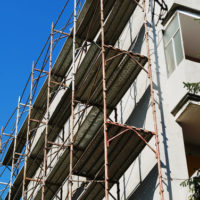 On Thursday, June 22, 2017, a scaffold collapsed in Center City Philadelphia and sent two workers to the hospital with minor injuries. The scaffold was hanging off the side of a building, suspended about 25 to 30 feet in the air, before it collapsed. Onlookers said it looked as if the scaffold was in a V, with one man hanging off the side of the roof and the other dangling from his harness. The scaffold fell when some bricks on the building they were working on came loose and fell onto the platform, which proved to be too much weight for the scaffold. The incident is under investigation.
Not even a week later, on June 26 in Long Island City, Queens, a scaffold collapsed on the fifth floor of a building undergoing construction. Six workers sustained serious but not life-threatening injuries. The structural integrity of the building is under investigation.
Two days later, on June 28, a scaffold collapsed at a construction site in Pismo Beach, CA, and injured five workers; two of the workers' injuries were considered "critically injured." While it is still unclear what caused the collapse, authorities believe that it had to do with a faulty anchoring system which failed to hold the scaffolding up.
As you can see, scaffold accidents happen a lot more often than many people think. Scaffolds are such a commonly used construction tool that many individuals believe them to be wholly safe, but the truth is that they like most construction equipment, they come with their fair share of risks. At Spencer Morgan Law, our Miami construction accident attorneys understand how life-changing a serious construction accident injury can be, and how it can impact every area of your life, including your ability to work, your income, and your ability to partake in your favorite hobbies. If you were injured in a scaffolding accident in Miami and if you believe that faulty equipment or lack of protocol was to blame, reach out to our team for immediate legal assistance today.
Most Miami Scaffold Accidents Are Preventable
Unfortunately, most scaffold accidents are entirely preventable. With proper training on safe scaffolding techniques, supervisors and employees alike can prevent scaffold accidents from occurring at all. All individuals who will use, or who will potentially use, a scaffold on the job should be trained to conduct a thorough investigation of the equipment beforehand, and taught to spot any potential defects, damages or other issues that could compromise the safety of a particular scaffold. Simply being able to identify a problem before climbing aboard and sailing dozens of stories into the air could prevent serious injuries and even save lives.
One of the most common causes of scaffold injuries is planks collapsing. Planks collapse because a scaffold becomes overloaded with materials, personnel or both. Again, this is highly preventable. By teaching their workers proper scaffold safety protocol, supervisors can prevent plank collapse and subsequent scaffold injuries. Managers and supervisors should always be on site when scaffolds are in use as well, so that they can keep an eye on their workers to ensure that they are following proper protocol.
Consult a Miami Construction Accident Attorney
When it comes to scaffold accidents in Miami, any number of individuals or entities could be at fault. The construction site manager could be at fault for failing to notice a structure's lack of integrity; the supervisor could be at fault for failing to properly train and/or supervisor his or her works; and the worker him or herself could be at fault for failing to follow scaffold protocol. Florida also works under the notion of Comparative Fault, meaning that two or more entities may share liability for the accident, which is something that a skilled Miami construction accident lawyer will take into consideration when fighting on your behalf.
If you were injured in a scaffold accident in Miami, reach out to the team at Spencer Morgan Law for a free case evaluation today, as you may be entitled to compensation beyond workers compensation for your damages. Call 305-423-3800 to schedule your free consultation today.
Resource:
6abc.com/news/2-workers-hurt-in-scaffold-collapse-in-center-city/2131383/