Miami Golf Cart Accident Claims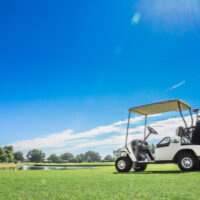 According to an economic golf industry study from the University of Florida, there are over 1300 golf courses in the state of Florida. This is a higher number of golf courses than any other state in the U.S. As the home to esteemed tournaments such as the PGA tour and so many sunny days to enjoy the game of golf, the high number of golf courses makes sense.
Unfortunately, there are also times when golf carts crash and individuals are injured as a result. Without the safety features of passenger vehicles, injuries can be severe. After a golf cart injury, discuss the details of your circumstances with a Miami personal injury lawyer.
Different Types of Golf Cart Accidents
While golf carts are smaller than passenger cars and travel at lower speeds, when crashes or rollovers happen, serious injuries are possible. Some of the ways golf carts crashes occur include the following:
Cart-to-cart collisions
Multi-cart accidents
Carts impacting pedestrians or bicyclists
Rollovers or tip-overs
Carts driving into water
Hitting buildings or objects
These and other cart accidents result when drivers are distracted, under the influence, or driving in risky conditions. Accidents are possible when a driving surface is wet or an area is overcrowded with carts, for example.
Safety measures should be taken by drivers and passengers when riding in a golf cart. These include keeping away from sharp turns, braking carefully, maintaining safe speeds, and keeping arms and legs in the cart.
Determining Fault and Liability
After you connect with a Miami personal injury lawyer, an investigation process will take place. During this time, a professional will assess all the vehicles involved in the event. If there were witnesses, they would also be contacted to provide their version of the accident. Experienced attorneys are able to gather the amount of evidence needed to build a strong personal injury claim.
Golf cart owners can be negligent. Other times a driver could be at fault or the golf cart manufacturer could be liable if there was a design fault that contributed to an accident and injury. When it is possible for the injured party to successfully establish another was at fault, securing damage recovery for hospital bills, doctor fees, scarring, emotional distress, lost income, property damage, and pain and suffering is possible.
Of course, a financial award does not fully fix a person's life. There are plenty of examples of individuals who still suffer as they are not able to restore their health or daily life after a severe accident injury. But, damage recovery can still be beneficial. It could ensure you are receiving the best medical care you can as you move through treatment, for instance.
Did you sustain an injury as a result of a golf cart accident? Talk to the Miami personal injury attorneys at Spencer Morgan Law. Accident cases can be complex, a knowledgeable attorney is needed to navigate the complicated negotiations with insurance companies and legal professionals. Contact us today at 305-423-3800 to schedule your free consultation.
https://www.smorganlaw.com/can-i-get-a-settlement-from-a-miami-limo-company/