Maternal Car Accident Injuries And Seatbelt Safety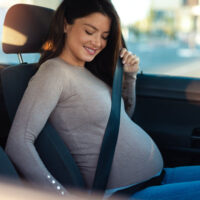 Car accidents can be incredibly harmful, and pregnant women are not exempt from the potential risks and injuries associated with traffic collisions. Vehicular accidents have led to many maternal injuries, such as placental abruptions. In an effort to stay safe, remember the importance of wearing a seatbelt for both pregnant and non-pregnant individuals. And if a Florida accident does occur and you want to discuss damage recovery options, talk to a Miami personal injury attorney.
Car Accidents, Placental Abruption, and Pelvic Injuries
There can be severe consequences for pregnant women when traffic accidents happen. One of the possible injuries is placental abruption, which occurs when the placenta detaches partially or completely from the uterine wall. Abrupt speed shifts and the impact of a car accident can result in placental abruption, which can be life-threatening for both the mother and the unborn child.
Additionally, the head, abdomen, and pelvis can be vulnerable to injuries during a car accident. Harm to the head could lead to a traumatic brain injury (TBI) diagnosis which can have serious implications, including effects on cognitive function, motor skills, and overall well-being. And because abdomen and pelvis are at higher risk of injury in a car accident, injuries to this area of the body can include fractures, internal bleeding, organ damage, and complications that may require surgery.
Seatbelt Safety and Pregnant Women
Wearing a seatbelt is crucial for both pregnant and non-pregnant individuals to minimize the risk of injury in a car accident. There is a common misconception that wearing a seatbelt increases the risk of harm to the unborn baby, but wearing a safety belt actually significantly reduces the risk of maternal injuries and harm to the developing fetus when the belt is worn correctly.
To ensure safe travel while wearing a seatbelt during pregnancy, follow these guidelines:
The lap belt should fit snugly and be placed under the belly, low on the hips, and across the upper thighs. Never place it across the abdomen, as this could potentially harm the baby in the event of a collision.
Shoulder belt positioning should be diagonally across the chest and to the side of the belly.
Pregnant women should sit as far back as possible from the steering wheel, while still being able to reach controls comfortably. Be sure to remember to adjust the seat and steering wheel as a pregnancy progresses to accommodate your changing body.
Even with the proper use of safety features maternal injuries can be sustained. If you are pregnant and were injured in a car collision, it is crucial to consult with an experienced Miami injury lawyer who specializes in car accident cases. A Miami personal injury attorney can evaluate your situation, gather evidence, and navigate the legal process to seek compensation for your injuries and any related medical expenses.
Were you pregnant at the time of a Miami car wreck? Pregnant women are not immune to the risks of car accidents, and maternal injuries can lead to extensive medical care. To have your healthcare bills covered, connect with the lawyers at Spencer Morgan Law. Call 305-423-3800 for a confidential assessment.