Ladder And Scaffolding Accidents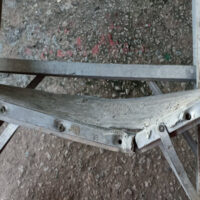 According to OSHA, the Occupational Safety and Health Administration, individuals falling and objects falling on people are a leading reason for workplace injuries and fatalities. There are a lot of risks for individuals who work at high heights, such as construction workers and others in building trades. After a ladder or scaffolding injury, it is essential you connect to the compensation settlement you need to access the appropriate medical services.
Reach out and talk through the facts of your case with a seasoned Miami personal injury lawyer. Experienced attorneys know how to navigate an injury case that could require compensation from a few different sources. For instance, you may have a right to workers' compensation and be eligible for a settlement through a personal injury insurance claim or lawsuit. Harm due to a malfunctioning scaffolding system or ladder fall can lead to high expenses, legal support is available to help.
How Accidents Happen and Seeking Compensation
It is well known that ladders, scaffolding, and other tools to reach heights carry risks. Following all of the safety guidelines and behaving responsibly can help to alleviate accident dangers, but the reality is accidents can happen at any point due to unforeseen problems.
Reasons for injuries during ladder or scaffolding use:
Working conditions were unsafe.
Proper safety gear, such as fall arrests, were not provided.
Falling when high above floor or ground.
Malfunction of equipment, such as a collapse.
Debris, tools, or other objects fall and strike an individual.
Design defects in tools and equipment.
If a personal injury claim or legal action will be part of your financial recovery, negligence and fault will be analyzed. Often workers' comp are the first benefits accessed after a workplace injury, but there are other paths to compensation when you need to secure a larger financial settlement or a few options are required to make you whole after an injury.
Exploring Possibility of Product Liability
Companies that design, manufacture, and market ladders and scaffolding need to be sure they are producing and selling a product that can be used safely. When there is evidence of equipment failing because of company negligence, a defective product claim could be part of your injury recovery process as well.
To have your situation evaluated, communicate your hopes and what you need to settle your bills with a Miami personal injury lawyer. Lost income compensation is also possible when you need to stay home from work in order to fully heal from a ladder fall or scaffolding collapse.
Were you hurt in a ladder accident or construction scaffolding incident? You need a lawyer who can provide you with step-by-step guidance. Whether your case is complex or straightforward, a legal professional can advise you on the best path to the maximum recovery amount. Share the details of your injury with the legal team at Spencer Morgan Law. After our lawyers compassionately listen to your story, they will work to make sure you are made whole. Book your no-cost, confidential assessment to learn more. Call 305-423-3800 to book an appointment.