Injuries Sustained In Cruise Ship Terminal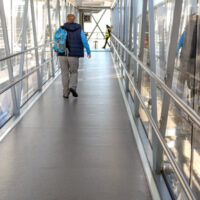 If you love to cruise or you have friends and family members who enjoy vacationing on open water, you likely pay attention to reports on how to avoid illness and injury when taking a cruise. But when there are discussions of cruise injuries, the conversation typically centers on food poisoning, illness outbreaks, or a cruise guest injured on a shore excursion. But there are times when individuals are hurt before they even board the boat. The terminal carries its own risks.
Seeking compensation for an injury sustained in a cruise terminal is possible, talk to a Miami personal injury lawyer to learn more. Even if you were hurt before boarding, damage recovery is an option. Working with an attorney is advised as cruise companies have large legal departments and are experienced in finding ways to undervalue claims. But cruise companies have a responsibility to maintain a safe port facility, including reducing dangers in the cruise terminal.
Cruise Terminals and Boarding Documents
When you decide to go on a cruise, you will need to go through the embarking process. Arrival and check-in is something that is old hat for regular cruisers, but when it is a person's first cruise, they may be overwhelmed.
Essentially, a cruise terminal is a place for you to share your boarding documents and proper identification to officials. Be sure to have the correct documentation, including your driver's license, passport, or birth certificate, depending on the guidelines provided by the cruise line.
Many compare going through a cruise terminal with going to the airport. After all, you need to share documentation and you and your luggage need to pass through security, including a scanning machine. Falling on a dock or platform could result in an injury, along with other trips and slips that can happen when hazards are present.
Obtain Medical Care Quickly
Whenever you have an accident injury, including injuries sustained at a cruise terminal, be sure you have harm assessed and treated as soon as possible. There is likely a first aid station that can assist you or your loved one, and if injury needs more treatment, it is essential to go to an urgent care center or a hospital emergency room.
Some cruise terminal injuries that could lead to a need for a higher level of medical care:
Broken bones
Heavy bleeding
Cuts in need of stitches
Head injuries
Back and neck harm
Prompt attention is important when it comes to legal guidance as well. If you will be needing damage recovery or believe you have right to compensation following a cruise ship port accident, discuss the details of your accident with a Miami personal injury lawyer. There are steps to support your claim, from gathering evidence to filing paperwork.
Were you going on a cruise but ended up being injured during the embankment process? Have a lawyer review the specifics of your situation. There may be a path to compensation. The legal team at Spencer Morgan Law can help. Contact us today for a no-cost, confidential assessment of your cruise injury. Contact at 305-423-3800.