Injuries from Side-Impact Crashes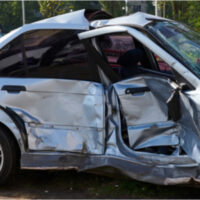 A side-impact crash is when the side of a vehicle is struck by the front or rear of another car or truck. Sometimes they are also called T-bone crashes or broadside accidents. They can be extremely dangerous, resulting in severe injuries or fatalities, either from rollovers occurring or traumatic head injuries. Vehicles can even be crushed by the impact.
While vehicles have many safety features, there are fewer protections for vehicle occupants when a side-impact crash happens. There are more protections when the rear or the front of a car is struck. If you are recovering from injuries after a side-impact collision in the Miami area, connect with a Miami car accident lawyer today.
Types of Harm from Side-Impact Accidents
Side-impact collisions can result in substantial harm, particularly to the occupants of the vehicle that is struck. T-bone accidents can result in a victim's life being altered, there can be extensive injury and trauma. One or more of the following could be sustained.
Traumatic brain injuries
Other head traumas
Broken bones or fractures
Facial injury and scarring
Cuts and lacerations
Harm to neck and back
Damage to internal organs
Damage recovery is often essential as the person who has suffered injuries may be struggling with extensive medical expenses and the emotional distress from the trauma of the event and their injuries. Quality of life may be reduced permanently.
Some of the medical expenses could include hospital bills and physical therapy fees. On top of this, accident victims may experience income loss and travel expenses during their healing process. Out-of-pocket expenses and insurance copayments can add up fast as well.
Steps to Take After a T-Bone Collision
There may be a lot of emotion and confusion after a broadside crash. While it may not be possible to follow all of the steps below, doing those that you can is helpful for future personal injury claims.
Do not say you are sorry. Stick to the facts and call 911 or the police.
Ask witnesses for their names and contact information.
Capture videos or photos of the accident scene and injuries.
If you do not go to the hospital, see your personal doctor as soon as possible.
Connect with a lawyer before discussing your claim with an insurance adjuster.
Talking with a Miami car accident lawyer as soon as possible could be the best path to maximum compensation. You do not want to say anything to an insurance adjuster that could hurt your claim later. An experienced attorney understands your rights. They will know what settlement amount is fair, which can help you avoid agreeing to an amount that is far too low to compensate for your injuries and suffering.
Were you or someone you love involved in a T-bone crash? Talk to the Miami personal injury attorneys at Spencer Morgan Law. Accident cases can be complex, a knowledgeable attorney is needed to navigate the complicated negotiations with insurance companies and legal professionals. Contact us today at 305-423-3800 to schedule your free consultation.
https://www.smorganlaw.com/3-things-you-shouldnt-say-after-a-car-crash/