How To Handle A Broken Leg Claim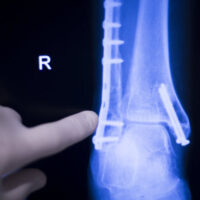 Broken bones are possible when a person is hurt in a car accident, slip and fall event, or is struck by an object. Often the first indicators of a broken leg or fracture in another area of the body is swelling, pain, or something not looking right. When the bone breaks, you may hear a snap noise and feel tenderness if you touch or attempt to move the area.
Seeking medical treatment as soon as possible is necessary if you suspect you have broken your leg. Fractures in a person's foot or toe is also possible and feeling faint or sick is also common. Emergency rooms, urgent care centers, and primary doctors who can see you right away are all good options for a physical assessment and the establishment of a treatment plan.
If you sustained a leg fracture, you may be able to access damage recovery. To have the financial worth for your claim or case calculated, connect with a Miami personal injury lawyer.
Imaging, Splints, and Surgery
Calculating how much would be a full and fair settlement will depend on the financial harm sustained as a result of your accident injury. For example, it is common for bone breaks to lead to the need for X-Rays, MRIs, or other forms of medical imaging so the extent of the injury can be assessed.
Next, your treatment plan will be put in place by your doctor or medical team. For some, a splint or other immobilizer will be recommended along with set physical therapy appointments. In other situations, surgery and medical implants are necessary. Implants from pins to screws assist the body in keeping bones in place.
When a broken leg requires surgery and long recovery times, it is also possible you are unable to work. Then, lost wages could become part of your claim as well.
Accepting a Settlement for a Broken Bone Injury
Many cases involving fractures resolve through a settlement. But that does not mean you should blindly accept the first settlement offer you receive. It is important to understand the worth of your claim so you are not accepting an amount that does not connect you with all of the damage recovery you are entitled to receive.
A Miami personal injury lawyer is skilled at representing accident victims, whether they sustained a bone break or other injury in a car accident or other injurious event. Attorneys work on insurance claims and personal injury lawsuits every day, they are well versed in local, state, and federal law and they will let you know when a damage settlement offer is far too low.
What type of fracture did you sustain? When recovering from a bone break or other accident injury, discuss your compensation options with the qualified attorneys at Spencer Morgan Law. Because our lawyers have worked on many personal injury cases involving fractures, we know how much claims are worth and how to access the financial compensation needed for an accident victim to be made whole. Call us at 305-423-3800 to schedule your first meeting.