How to Avoid Drivers with Road Rage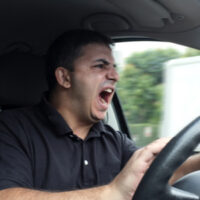 Road rage, a term used to describe driver behavior that is angry, aggressive, and threatening, can be extremely dangerous. This risky way of driving is common and can lead to collisions, assaults, and extreme physical injuries. In fact, when an insurance comparison company surveyed a pool of American drivers, 82% of them reported experiencing road rage within the last calendar year.
If you have been in a Florida crash with an angry and aggressive driver, contact Miami car accident lawyer to discuss your options. And when you drive, do what you can to avoid aggressive drivers.
What Are the Indicators of Road Rage Drivers?
People who are forcing their frustrations on others are not in control of their emotions. This uncontrolled anger is a risk on the road, other drivers and the road rage drivers themselves. Take note of any aggressive drivers and do what you can to avoid an altercation or collision.
Here are a handful of signs an aggressive driver may be behind the wheel:
Harsh and unreasonable use of a car horn
Merging in and out of traffic suddenly
Tailgating cars and motorcycles
Shouting at others, including car drivers, motorcycle drivers, and people on bicycles.
Making obscene motions at others
Too often, individuals are compelled to react to an aggressive driver which can fuel their anger. When possible, simply give the car a good amount of space and let them move away from your vehicle on their own.
How to Avoid Being a Road Rage Driver Yourself
Blaming others is easy, but keeping in mind the statistic that 82% of drivers have experienced road rage in the past year there is a good possibility it could happen to anyone. Take the steps you can to drive safely yourself. That means avoiding the urge to rush to commitments. Instead, be safe and follow the rules of the road each step of the way.
If you do find yourself in a situation that is dangerous and threatening, pull over at a safe location and call law enforcement. Safe places may include hospitals and convenience stores, locations that are well lit and have other people present should you need help. Contact a Miami car accident lawyer if you were a road rage victim in Florida.
It is essential that you talk over your situation with an attorney, even if there is an angry driver who has since settled down and is now apologetic. If damage has been done, it is important you secure compensation that is fair. Any settlement offers brought to you might not be the best offer possible. A knowledgeable attorney knows what a fair settlement is, including compensation for hospital bills, repairs to cars and motorcycles, future medical expenses, and more.
When a road rage driver's reckless behavior results in a car accident, you need to know your legal rights. Talk to a knowledgeable personal injury lawyer right away. Our attorneys at Spencer Morgan Law will fight for fair compensation. Contact us today at 305-423-3800 to schedule your free consultation.