How Does A Contingency Fee Arrangement Work?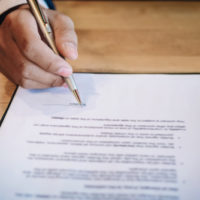 When a person is injured in a car accident, truck accident, or any other type of personal injury accident, he or she may be unable to work. However, he or she must still find a way to pay for his or her living expenses and the growing pile of medical bills. The last thing that any accident victim wants to do is add attorney fees to his or her already numerous financial obligations. Yet, an attorney may be an accident victim's best shot at recovery—and recovering compensation should be high on a seriously injured person's list of priorities.
At Spencer Morgan Law, we offer our services on a contingency fee basis so that injured parties can pursue the compensation they need to recover from an accident in financial comfort. This post covers contingency fee basics and addresses any questions or concerns you might have regarding a contingency fee arrangement.
The Basics of a Contingency Fee Arrangement
The point of a contingency fee arrangement is to allow an accident victim to pursue legal remedies without having to front any or a lot of his or her own money. As a client, you would not pay any legal fees until you win. If you do end up winning your case, your Miami personal injury lawyer is entitled to a percentage of your recovery. If you are unsuccessful in your claim, you do not have to pay your attorney at all.
Though Florida law does not specify a fee rate, it does state that an attorney must set a "reasonable fee," and refrain from setting a fee that is "clearly excessive." The rule then lists guidelines that a lawyer can use when setting his or her own rate.
Contingency fees are generally only used in cases in which a person is pursuing monetary damages for an injury. Most family law attorneys, criminal lawyers, bankruptcy lawyers, etc. work on a flat-rate basis. That said, attorneys who do operate under a contingency fee arrangement do not accept all cases that come their way. At attorney might turn down a case if he or she feels that the likelihood of winning is slim. He or she may also turn away a case in which the probable settlement amount is less than what his or her time is worth. Bearing that in mind, if a lawyer does accept your case on a contingency fee basis, you can rest assured that your case is a strong one.
Proceeding Under a Contingency Fee Agreement
If a lawyer does accept your case on a contingency fee basis, be sure to read the contract thoroughly before accepting the terms and conditions. Some attorneys require that the client pays for all legal fees outside of attorney fees. Others pay the legal costs upfront and only ask for repayment once a settlement is reached. Some expenses may include the cost of expert witnesses, retaining copies of medical records and reports, and arranging for payment of depositions.
Some attorneys operate on a gradual contingency fee basis. For example, if your case goes to trial, your attorney may up your percentage, as more effort is generally required for litigation. If your case is easier to resolve than your lawyer initially thought it would be, he or she may reduce the percentage of the fee.
Contact a Skilled Miami Personal Injury Attorney
If you were injured in an accident and want to pursue legal remedies, reach out to the experienced Miami personal injury lawyers at Spencer Morgan Law for the help you need to recover a sizeable settlement. Call our office today or schedule an appointment via our online contact form.
Resource:
floridabar.org/dasset/TFB/TFBResources.nsf/Attachments/5301531A693EA75C852570FA005FAE17/%24FILE/FMA%20proposed%20rule%20Amend.%203.pdf