Homeowners Associations And Golf Cart Injuries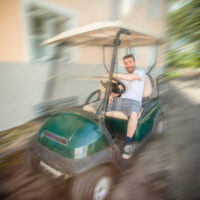 Many people travel through their neighborhoods without the use of a car. For example, some walk to destinations and others choose to use their golf cart. Unfortunately, there are times when pedestrians are struck by golf carts and find themselves badly hurt with injuries requiring expensive care.
If you were hit by a golf cart because a driver was not focused on operating the vehicle safely, legal support is available. Costly care may be required after a painful golf cart injury. When another's reckless actions resulted in your injuries, you should not have to handle both the financial and physical burden. Monetary relief could be possible, talk to a Miami personal injury lawyer to learn more.
Homeowners Associations and Your Claim
Because homeowners associations often have set rules about bike, car, and golf cart use, they may be involved in an injury claim. For example, if an association had rules about safe golf cart use and didn't enforce them, they could be held liable. One or more of the following golf cart rules could be part of a homeowners association agreement:
A minimum age for golf cart operators.
Requiring golf cart users to have a current driver's license.
Having documentation of a golf cart owner having insurance to cover damage on file.
When homeowners associations do not enforce the rules they have in place, or if they fail to maintain public spaces in order for golf carts and pedestrians to safely travel, they could be negligent and be responsible for some or all of your damage recovery.
It is essential to hold liable parties accountable as pedestrians can be severely hurt when they are struck by a golf cart, even one traveling at a relatively low speed. There is the possibility of fractures, lacerations, internal organ damage, and concussions. Seeking medical care immediately is essential, even when you believe you feel ok initially.
Speak to a Florida Law Firm About Your Recovery Rights
While you may receive a settlement amount offer, being awarded the maximum compensation amount will likely take some effort on your part. This means prioritizing your recovery and calling a Miami personal injury lawyer to learn about injury recovery options.
After all, major golf car injuries mean hospital bills, expensive medical treatments, medications, and rehabilitation appointments. When you combine these fees, the total is often far more than the individual can afford, even after their health insurance settles a percentage of the bills. Some individuals even find themselves unable to work because of their golf cart injury, so they have no income coming in.
Is it time for you to take action after you were struck by a golf cart while walking? You may have a right to recovery through an insurance claim or through other legal remedies. Bring your question to a skilled lawyer, someone who will compassionately listen to your story and answer your inquiries. To have an expert on your side fighting for your rights, connect with the legal team at Spencer Morgan Law. Schedule your no-cost, confidential assessment, call 305-423-3800.