Headlights Requirements In Florida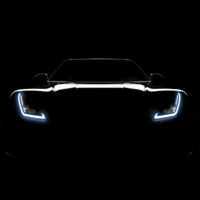 To be aware of road hazards, it is essential drivers can see the road, traffic signs, and other vehicles. For these reasons, headlights and headlight use is an important part of staying safe. Accidents, injuries, and car damage are all possible when headlights are not used properly.
In recent years, automatic headlights have become common for new vehicles. Automatic headlights activate when conditions darken. They do not rely on a driver turning a knob or pressing a switch for the illumination to occur. Of course, there are older cars and trucks on Florida streets and highways, and those drivers need to turn their headlights on during nighttime hours and when weather conditions require it. If you were hurt in a South Florida crash because another car did not follow the headlight requirements, talk to a Miami car accident lawyer.
Florida Headlight Timing Rules
According to Florida statute 316.217, a vehicle is required to have its headlights illuminated in the period between sunset and sunrise. Additionally, if a car or truck has their windshield wipers in use, the headlights need to be on as well. The same requirements are in place in all states, although there may be slight shifts in guidelines and rules. For example, when it comes to using your high beams, the exact distance varies from state to state.
In Florida, high beams should not be used within 500 feet of oncoming traffic as they can blind other drivers. High beams are most effective when traveling over 25 miles per hour and can be a useful tool to navigate extremely dark conditions. They simply need to be used safely and dimmed when there are oncoming cars or trucks.
Fog, Rain, and Mist
Whenever the weather shifts, it is important drivers adjust their behaviors. This could include slowing down and turning on windshield wipers and headlights. Too often, individuals behind the wheel do not realize how hazardous the conditions have become and instead drive as though it is a clear, sunny day. When visibility is reduced, headlights can be a step to keeping people on the road safe.
Also, environments can change due to the road, not just the weather. If you drive into a tunnel, for example, you will notice your automatic headlights illuminate. Or, if you have manual headlights, you will need to turn your lights on yourself. This is a habit that needs to be exercised when driving underground, possibly in a parking area, as well.
If you or someone you care about was injured during a rainstorm or nighttime accident, talk to a Miami car accident lawyer about your compensation options.
Were you struck by another vehicle that did not have their headlights on during dark conditions? An experienced attorney can help. Talk to the Miami personal injury attorneys at Spencer Morgan Law and have a lawyer negotiate with an insurance company for you. We have experience proving negligence, and dealing with insurance companies. Contact us today at 305-423-3800 to schedule your free consultation.