Have Car Repairs Done By A Professional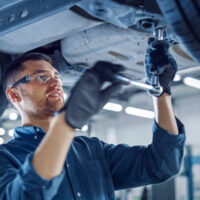 After a car crash, it is possible your car will need auto body repairs. It is common for people to work on cars as a hobby. If this is true for yourself or someone in your family or social circle, you may be considering fixing your car accident damage yourself. This is not recommended. Working with a professional, for estimates and final work, can strengthen your insurance claim.
South Florida accidents can result in extensive auto body damage, but if you work with a Miami car accident lawyer a full and fair compensation could be possible. Doing the repairs yourself could damage your chances of securing a large settlement.
Reasons to Choose a Professional for Your Collision Repairs
It is possible you will do further damage to your car if you attempt to repair it yourself, and it may not be possible for you to receive the amount you need to fix the further damage through a settlement. Without the proper training, experience, and tools, harm to a vehicle is possible. A professional who inadvertently damages your car has to make the situation right, so see a professional you can trust.
In addition, the damage to your car may be far more extensive than you originally guessed. An inexperienced repair person may only respond to surface damage and tell you it's an easy fix. But once one part is removed, it may become clear the problem is more substantial.
Cosmetic Concerns and Car Value
Even beyond the nuts and bolts of repair, professionals know how to make a car look and drive as close as possible to how it looked and drove prior to the car accident. Matching paint can be complicated, for instance. Particularly if a car has spent a lot of time in the South Florida sun, the paint color may have faded or changed.
Selling your car for a fair price in the future could rely on getting a proper repair done today. Your car will have an accident history, but you will be able to show a potential buyer that there was an accident but the damage was repaired by a professional. This could result in a higher trade in value or private sale.
When you have questions about how to handle accident damage, work with professionals. A Miami car accident lawyer can look over the details of your case and let you know how much your claim is worth. Then, when your South Florida lawyer negotiates with an insurance company, they won't accept an offer they have already determined is too low given the details of your situation.
Are you in need of extensive auto body work after an accident? A knowledgeable Florida personal injury lawyer can help. With free consultations, our lawyers can determine if you have a right to damage recovery. We will cover your case from the beginning stages to securing final damage awards. Our attorneys at Spencer Morgan Law will fight for fair compensation. Contact us today at 305-423-3800 to schedule your free assessment.