Florida Motorcycle Operators And Safe Riding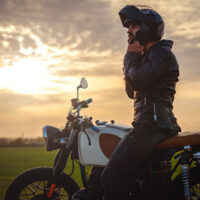 Florida motorcyclists are lucky to enjoy weather that is conducive to riding throughout the year. While sunny days and blue skies are the perfect time to get outside and ride on your motorcycle, it is essential you take steps to protect yourself from crash risks and injuries. After all, when the weather is nice there are also travelers and vacationers taking to Florida roadways.
Whether you are a seasoned rider or have recently begun riding a motorcycle, there are particular precautions to take and safety skills to use every time you get on a bike. While accidents can't always be avoided, following safety steps will reduce the likelihood of an accident and crash injuries. And if you are already coping with the aftermath of a FL motorcycle collision, talk to a Miami personal injury lawyer.
Select the Right Motorcycle for Your Level of Experience
If you are in the market for a motorcycle, know that there are a range of types to choose from, such as sport bikes and touring bikes. Sport motorcycles, while they are a small amount of the total registered bikes on the road, are involved in a lot of the severe traffic accidents. This could be true, at least in part, because they move incredibly fast and sometimes riders take risks, like recklessly changing lanes and speeding.
You need a motorcycle you can handle safely and confidently. So if you are a new rider, you may opt for a lighter bike that is easier to handle. Particular braking systems may also be of interest to you so that you will be able to stop quickly and safely when needed. Talking to experienced riders may also help as they can share what skills riders develop over time and what bikes are good for new, intermediate, and advanced riders.
Helmets, Reflective Clothing, and More
When it comes to safety gear, a helmet is the most essential piece of equipment to have, and ones with full coverage provide the highest amount of protection. Always buy a new helmet that fits correctly. Used helmets and hand-me-down helmets are not to be utilized. Often they are not the right size and they could have been involved in a previous crash, leading to less effectiveness, without you knowing it.
And when you are riding, always check your blind spots, keep your distance from other vehicles, and pass with care. An accident involving cars, trucks, or motorcycles can result in high costs. To learn about how to access financial recovery for crash expenses, including doctor bills, lost income, and property damage, talk to a Miami personal injury lawyer.
Do you want to talk about your compensation options following a FL motorcycle accident? A Miami personal injury attorney has the experience you need, they will be able to tell you the worth of your claim and will work to secure the maximum amount for you and your family.  Connect with the legal team at Spencer Morgan Law today. Book your no-cost, confidential meeting, call 305-423-3800.