Filing A Claim After A Wrong Diagnosis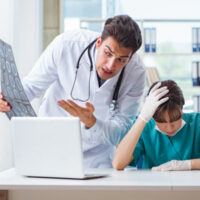 It is an unfortunate reality that one of the most prevalent medical errors is diagnostic mistakes. This could be because of a misdiagnosis, delayed diagnosis, or missed diagnosis. A misdiagnosis is when you are diagnosed with the wrong illness, a delayed diagnosis is when you were not diagnosed in a timely manner, and a missed diagnosis is when your medical team failed to diagnose your condition completely.
Medical malpractice claims may be possible if you received an inaccurate or delayed diagnosis at a healthcare facility in Florida. To learn what options are possible for you after a wrong diagnosis, talk to a Miami personal injury lawyer.
Not Every Mistake Will Lead to a Medical Malpractice Claim
In order for a failed or missed diagnosis to be deemed medical malpractice, the mistake must be connected to a medical professional failing to meet a standard of care. According to Florida law, every doctor has a legal duty to treat people in line with standard medical knowledge and procedures. This includes diagnosing a person in an accurate and timely way, in line with the data the physician has available to them.
A missed or wrong diagnosis may be a possibility if the following are true.
Your doctor should have caught your illness or injury. In these situations, there is evidence that shows your physician had an opportunity to accurately assess your illness or injury and they did not do so. This could also come into play if they could have obtained the necessary information if they had ordered the correct tests or assessments.
Harm was sustained as a result of the doctor's failure. There need to be losses that could be recovered in order to move forward with a medical malpractice claim. This includes a variety of line items, including current medical fees, future healthcare costs, lost income, emotional distress, and other damages.
Your timeline to file has not sunset. There are statutes of limitations that need to be adhered to when it comes to medical malpractice claims. Different states have their own timelines, in the state of Florida the statute of limitations on medical malpractice claims is two years. This timeline will start either when the harm was sustained or discovered, depending on the situation.
When you connect with a skilled Florida lawyer, they will walk through all the necessary steps with you, including if you have the elements of a strong claim and the likely value of your medical malpractice claim.
To pursue the possibility of a claim, reach out to a Miami personal injury lawyer. A wrong diagnosis or a missed diagnosis can happen. If they happen to you, contact an attorney promptly.
Are you wondering if the poor medical care you experienced could be medical malpractice? Talk through the details of your unique situation with the qualified attorneys at Spencer Morgan Law today. Our attorneys will inform you if legal action is possible and what evidence needs to be collected to support your need for financial recovery. Call us at 305-423-3800 to schedule your first meeting.