Filing A Claim After A Single-Vehicle Miami Crash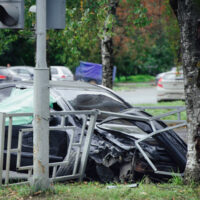 People often think of car accidents as being multi-vehicle events but there are instances of single-car crashes. This can happen if you were to hit a building, guardrail, or tree, for example. Single-vehicle accidents can lead to high expenses for property damage repairs, and injuries could require medical care. While the driver of the car is sometimes at fault, that is not always the case.
Connect with a Miami car accident lawyer if you were involved in a single-car accident in Florida. An experienced attorney has relationships with experts to help determine exactly what caused the crash and collect valuable evidence to prove another was liable, when possible. Claims can be complex, talking to a skilled lawyer is a path to clarity.
Weather Conditions and Other Vehicles
Sometimes, single-car accidents are caused by weather conditions. In other situations, the erratic behavior or another driver forced them to swerve and then become involved in an accident. Or, there could have been defects in the car itself.
Some factors that could prompt a single-car accident:
Standing or pooling water on the road
Dangerous weather conditions
Construction zones create hazards
Defective auto parts
Traffic signage is confusing or poorly placed
Ice patches present
Other drivers driving poorly
If you are considering talking to a professional, reach out and talk to a legal expert right away. Timing is important because there can be deadlines to follow in order to strengthen an injury claim. Plus, important documentation can disappear. For example, if your accident was due to inappropriate road construction signage, you want to be sure that signage at the accident site is documented effectively before the crew finishes the job and removes the signs.
A Lawyer Can Also Help with Witness Accounts
Insurance claims adjusters or police officers filing police reports could claim the driver of the vehicle is solely to blame. If this is true in your situation and you do not agree, you may be able to collect evidence to prove your side of the story. For example, there may be a witness at a local business that saw your accident. Or there could be surveillance footage from the business location.
A Miami car accident lawyer can prepare the written requests necessary to secure witness accounts and surveillance footage. There are options for building a successful claim when another individual or party is negligent. What level of compensation is possible depends on the details of the event. Negotiating a settlement for a single-vehicle crash can be complex, a legal professional has the skills you need.
Are you wondering what to do after sustaining a broken bone or other injury in a single-car Miami crash? A knowledgeable Florida personal injury lawyer can help. With free consultations, our lawyers can determine if you have a right to damage recovery. We will cover your case from the beginning stages to securing final damage awards. Our attorneys at Spencer Morgan Law will fight for fair compensation. Contact us today at 305-423-3800 to schedule your free assessment.