Exploring Miami's Bike Paths And Ensuring Safety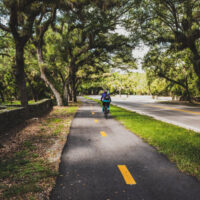 Bicycling has gained popularity recently, as both a recreational activity and an environmentally-friendly form of transportation. As a result, Miami's bike paths have become incredibly active, they are bustling corridors for riders of all ages and abilities. While these designated bike paths provide riders with travel routes free of vehicular traffic, or at least a significantly reduced amount, accidents and injuries still occur.
Injuries sustained on a bike path can lead to a need for financial relief. If you are wondering if an insurance settlement or legal action is possible, share the details of your bike path injury with a Miami personal injury attorney. Lawyers know how to protect your interests, because even when you are following all the crucial safety measures you can, unexpected events can happen and you may need to seek compensation in order to settle medical bills and other accident expenses.
Popular Miami's Bike Paths and Prioritizing Safety
To cater to the growing popularity of cycling, Miami-Dade County has developed a network of bike paths. They vary from one another, depending on the experience individuals are seeking. A few of the paths that are heavily used include the Rickenbacker Causeway, the Venetian Causeway, and the Old Cutler Trail.
Rickenbacker Causeway. Connecting Miami to Key Biscayne, cyclists enjoy views of the ocean and skyline on this pathway. And because it is a smooth ride, it is an attractive option for many who enjoy cycling.
Venetian Causeway. A way to access downtown Miami from Miami Beach, this pathway has waterfront views and lush greenery
Old Cutler Trail. Cyclists who prefer suburban neighborhood rides with a canopy of trees enjoy this trail.
On all three of these paths you will see people of varying skill levels, and because they are active spaces, all riders need to keep safety in mind and exercise caution. Some important safety measures include wearing a helmet, following traffic laws, and opting for reflective gear and clothing. Additionally, be mindful of others using the bike paths and pay attention to bike path intersections where pedestrian crossings are marked.
What to Do After a Bike Path Accident
Even when precautions are taken, you may find yourself injured in a bike path accident. If so, take steps to protect yourself. For example, seek immediate medical attention and document your injuries, this will be important evidence should you choose to pursue financial compensation later.
And if you aren't sure how to achieve the financial relief you need after a bike path injury, consult with a reputable Miami personal injury attorney who specializes in bike accident injury claims. A seasoned professional can guide you through the process of determining liability and negotiating with other parties or their insurance companies.
What type of medical care did you need following a bike accident? Sustaining an injury on a Miami bike path can lead to high expenses, but the skilled lawyers at Spencer Morgan Law can protect your rights and help you obtain financial relief. Call 305-423-3800 now for a no-cost, confidential assessment.