Exploring How 5 To Drive Empowers Teen Drivers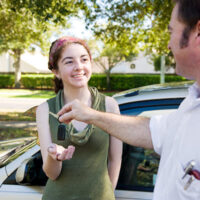 When teenagers get their driver's licenses, they are embarking on an exciting new journey, one that offers independence and a sense of adventure, but this newfound freedom comes with risks. It is essential that teens understand how to be responsible drivers, especially in a bustling city like Miami. One initiative that helps to empower teen drivers with safe driving practices is 5 to Drive.
Making sure teens understand these five ways to stay safe on Florida roads is an important step to avoiding accidents and injuries. And if a collision does occur, reach out and discuss your situation with a Miami personal injury attorney to be sure you are securing a full and fair settlement.
No Mobile Devices While Driving
Using cell phones or other mobile devices while driving is incredibly dangerous. Distracted driving, particularly due to texting or talking on the phone, is a top cause of accidents among teen drivers. When driving, you need to stay focused on the road, which means avoiding phone use.
No Extra Passengers
Multiple passengers in a car leads to distractions, which could divert a teen driver's attention from the task of safely operating a vehicle. Teen drivers need to limit the number of passengers, especially when they are new drivers. Reducing distractions is a way to stay safe.
No Speeding
Speeding is a common behavior at all age levels, and teens are no exception. But while young drivers may believe there is a thrill in driving fast, the reality is speeding increases the risk of accidents, reduces reaction time, and makes it difficult to control the vehicle in unexpected situations. Obeying speed limits and driving at a safe and appropriate speed for the road conditions is a good habit to adopt early, in the first years you have your license.
No Alcohol
Drinking and driving can lead to tragic consequences for any driver. Underage drinking and driving endangers the lives of the driver, the lives of passengers, and the lives of other road users. There is a zero-tolerance policy for alcohol consumption while driving for teens and anyone under 21 years of age.
Always Buckle Up
An effective safety measure, seat belts significantly reduce the risk of injury should a collision occur. Because of this, the 5 to Drive initiative advocates for the consistent use of seat belts for everyone in a vehicle, drivers and passengers alike.
While it is critical that you do all you can to travel safely, there are situations when accidents still happen. If you or your teenager was involved in an accident, consult with a Miami personal injury attorney to understand your legal options, ensure that rights are protected, and pursue compensation for injuries and damages.
Could legal support be what you need after a Florida collision? Doing what you can to travel safely is important, but sometimes collisions occur due to reckless behaviors. If this is true for you, talk to the legal team at Spencer Morgan Law. Call 305-423-3800 for a confidential assessment.