Do EMTs Keep Records?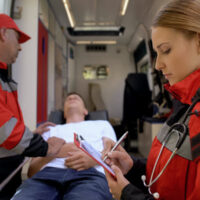 After a car accident, Emergency Medical Technicians (EMTs) are often the first healthcare professionals to respond to the scene, providing essential care and transportation to anyone who is injured. If you received treatment from an EMT, understanding the documentation maintained is vital, as it can support your need for financial compensation later.
To explore the types of documentation needed to strengthen your injury claim, talk to a Miami personal injury attorney. A skilled lawyer will inform you of what evidence should be gathered and can collect the documentation for you.
Types of Documentation for Car Accident Injury Claims
When you know you will be pursuing damage recovery, building a strong case for financial compensation is recommended in order for you to achieve your desired outcome. What evidence you will need will depend on the specifics of your case, but could include the following.
EMT reports. EMTs assess and treat injured individuals at accident scenes, and they generate reports that could include crucial details, such as the nature and severity of injuries, vital signs, treatment provided, and the condition of the accident site. These reports are important as they are a clear record of immediate medical care received.
Hospital records. If an injured party is transferred to a hospital, medical professionals will create a comprehensive record throughout the injured party's treatment, including information about injuries and follow-up care recommendations.
Imaging and diagnostic tests. X-rays, MRIs, CT scans, and other diagnostic tests conducted at the hospital can provide objective evidence of injuries. These records can demonstrate the extent of harm and support the need for compensation.
Your complete medical records could contain EMT reports, hospital documentation, and test information. For example, while EMT reports are often not directly included in your medical record, they could be attached as supporting documentation. In situations where EMT reports are not referenced within the medical record, they can be secured separately.
Discuss the Documentation You Need with an Attorney
Alongside comprehensive hospital and medical records, EMT reports provide critical information about any immediate care that was administered at the accident scene. So it is important to not overlook the essential invocation provided within these records, and bring any questions you have about accident documentation to a legal professional to maximize your chances of receiving the compensation you deserve for your car accident injury.
When you work with an experienced Miami personal injury attorney, all of the documentation connected to your case is obtained, analyzed, and effectively shared with the appropriate parties, from insurance adjusters to other attorneys involved in the case. A skilled injury attorney is familiar with the process of securing relevant records and utilizing the facts to support your case.
Were you treated by an EMT after a car crash? Discuss your case with the lawyers at Spencer Morgan Law. Once an attorney has compassionately listened to your story, they will share with you what documentation will be recruited to achieve compensation and will fight for your need for damage recovery. Call 305-423-3800 for a confidential assessment.