Dash Cam Technology And Car Insurance Claims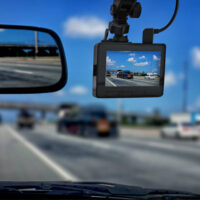 Short for dashboard camera, a dash cam is a camera that you mount on your dashboard to record events. Dash cams can be useful tools to alleviate expenses if you are involved in a vehicular accident or a victim of a hit and run collision. Sometimes referred to as a silent witness, dash cam footage can support your need for compensation following a South Florida accident.
Vehicles that are outfitted with dash cams could use the imagery gathered in their personal injury insurance claim. Of course, each situation will need to be assessed individually. When you hire a Miami personal injury lawyer, you can be confident all forms of documentation are being collected to ensure you secure the financial recovery amount you need.
Securing Compensation and Avoiding Increases of Insurance Premiums
If an insurance company is pushing to deny or reduce a claim, or if your need for compensation is a dispute that ends up in court of law, evidence is essential. It is likely a final determination will be made depending on which side can produce the most convincing evidence to support their version of how the accident occurred and the damages and injuries that occurred as a result. Dash cams can be a form of evidence.
Additionally, a side effect of a vehicular collision is that it can lead to insurance rate increases. This is not embraced happily by anyone, but it can be particularly straining for families who do not have room in their household budget to take on additional expenses. Reliable imagery of a car accident, such as footage provided from a dash cam, can be a path to proving you do not carry any fault for the accident so there should not be an increase in your rate.
Different Types of Dash Cams and Florida Laws
As dash cams have grown in popularity for personal cars and commercial trucks, the industry has developed more options for consumers. While dash cams were originally only available in front facing models, there are now dual facing dash cams available. Some of the additional features available include the following:
Night features
Smartphone capabilities
GPS features
Battery and temperature support
Audio features
When choosing a dash cam for your Florida vehicle, it is important to keep in mind that there are Florida rules surrounding dash cam use. For instance, it is illegal to have an object that will obstruct your view.
Florida laws are in place to protect you after a traffic collision. A Miami personal injury lawyer will do the legwork, collecting video footage, medical records, police reports, and other pieces of documentation to strengthen your car accident insurance claim.
Did your dash cam record the details of your South Florida accident? To understand the value of your evidence and how to use it to secure a maximum settlement amount, connect with the Miami personal injury attorneys at Spencer Morgan Law. Our attorneys know the details of Florida personal injury law. Call us today at 305-423-3800 to schedule your free consultation.