Dangers To Driving Drowsy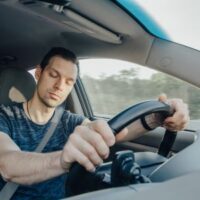 Because people are very busy, they sometimes ignore the signals their body is giving them, such as ignoring their own fatigue and getting behind the wheel of a vehicle. But it's important to know that drowsy driving is a serious issue, one that leads to accidents and injuries on Florida roads and highways.
According to the National Highway Traffic Safety Administration (NHTSA), an estimated 100,000 crashes each year are connected to tired drivers, and these accidents result in thousands of injuries and tragic losses of life. Talk to a Miami personal injury lawyer about how to achieve compensation after a drowsy driving accident injury.
Risky Situations Due to Tired Driving
Driving drowsy can have many of the same effects on a driver as driving under the influence of drugs or alcohol. It can impair a driver's judgment, reaction time, and ability to pay attention to the road. This can lead to a variety of dangerous situations, such as:
Falling asleep at the wheel. When a driver is very tired, it is possible they will nod off or fall asleep, which can result in a serious accident.
Drifting out of lanes. Drowsy drivers may have difficulty staying in their lane, which can lead to collisions with other vehicles.
Reduced reaction time. A driver who is exhausted may not react as quickly to sudden changes in traffic or road conditions, such as an animal crossing the road or a car suddenly braking.
Poor decision-making. Tired drivers are not always able to make good decisions due to their cognitive skills not being sharp. As a result, they may fail to speed up or slow down in response to traffic, causing accident risks.
If you are feeling too tired to drive, listen to your body. Asking someone else to drive or taking a rideshare vehicle is the safe choice.
Achieving Compensation After an Accident Injury
After an accident injury caused by a drowsy driver, you may be entitled to compensation. Your first priority should be to seek medical attention for any injuries you have sustained. Make sure to keep all medical records related to your injuries.
Next, connect with a personal injury lawyer and collect as much evidence as possible related to the accident including photos, witness statements, and police reports. An experienced personal injury lawyer can help you navigate the process of seeking compensation, including compiling and reviewing evidence to support your claim. Your lawyer will inform you of the value of your claim and they will negotiate with insurance companies, fighting for that full and fair recovery amount.
If you have been injured in a traffic accident or other event, shield yourself from low, unfair settlements, talk to a Miami personal injury lawyer.
Is a drowsy driver responsible for your accident injury? There are steps to take in order to protect your financial future, including seeking medical attention, gathering evidence, and contacting a personal injury lawyer. Bring your questions to the skilled legal team at Spencer Morgan Law. Call 305-423-3800 for a confidential assessment.