Dangerous Miami Intersections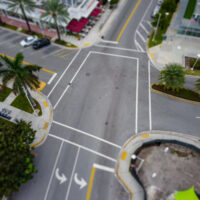 There are many benefits to living in Miami, including world class beaches, many wonderful food options, and sun shining throughout the year. But there are cons as well. For example, Miami-Dade County frequently ranks high in dangerous places for vehicular drivers, bicyclists, and pedestrians.
According to one report, out of every six car accidents in Florida, one occurs in Miami, and often these crashes happen at or within intersections. A couple of the risky intersections in Miami include the intersections at Kendall Drive and risks on the Brickell Avenue Bridge. It is essential for all drivers to operate their vehicles with caution to avoid collisions.
Intersections can have a higher collision rate than other areas because of traffic congestion, multiple traffic signals, and drivers not paying attention to changing conditions. If you were involved in an intersection accident and believe you have a right to financial compensation, talk to a Miami personal injury lawyer. 
Many Intersection Crashes Are Do to Driver Mistakes 
There are many reasons for driver errors, from a driver not having the correct experience for the road conditions to a person interacting with their digital device, but there are driver errors that are more common within intersections, including the following mistakes:
Trying to "catch" a light and driving too fast
Making an illegal move or ignoring turn rules
Misjudging the speed or movements of other drivers
Dismissing signs or signals that may be partially obstructed
When intersection accidents happen, they're often broadside crashes, also called side-impact accidents. Many cars and trucks do not have the same amount of safety features installed on the sides of the vehicles as are present in the front end. For this reason, the injuries of a side-impact crash can be severe. After any car collision, seek the expertise of a healthcare provider. If you know you are injured, a treatment plan can be put in place. And if you don't know if you have been hurt or not, a medical assessment can help to identify hidden injuries in need of care. 
Use Turn Signals and Give Other Vehicles Space 
If you need to drive to work or plan to drive to a recreational activity, doing so will require moving through intersections. Thankfully, there are things you can do to stay as safe as possible, including using turn signals, paying attention to your surroundings, and not changing lanes when in an interesting situation. Similarly, give other vehicles the space they need to navigate Florida roads safely.
After an intersection collision, you may have property bills and medical expenses. Connect with a Miami personal injury lawyer to explore your recovery options.
Are you recovering from a Florida intersection crash? An attorney can help you gather the evidence you need to secure a full recovery. The legal team at Spencer Morgan Law is committed to working diligently on your accident case. Discuss the details of your situation at a no-cost, confidential meeting to determine the best path forward. Our skilled lawyers can help, contact us at 305-423-3800 to schedule a consultation.