Chopper, Cruiser, And Scooter Accidents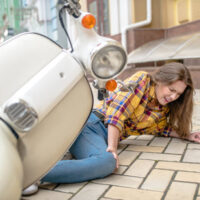 There are many different types of motorcycles and enthusiasts throughout Florida enjoy them. Some choose to ride in groups and make a day of socializing and enjoying Florida's beautiful scenery. But other motorcycle riders like to get out of town on their own or choose to use their bikes as a daily form of transportation and not solely for recreation. There are many reasons to find joy in cruisers, mopeds, and sports bikes, but there are also dangers.
If you or someone you care about was involved in a Florida motorcycle accident, talk to a Miami motorcycle accident lawyer before signing anything. It is possible an insurance company is asking you to sign off on a settlement amount that is far too low given your injuries. An experienced lawyer can assess your situation and determine the correct and fair value of your claim.
Causes of Accidents and Different Kinds of Motorcycles
Just as car accidents happen for a range of reasons, from driver behavior to weather conditions, motorcycle accidents may have a variety of factors. Some of the common ones include speeding, lane splitting, and turn incidents. These types of accidents can happen on any sort of motorcycle.
Different types of motorcycles that could be involved in a personal injury claim:
Job-related motorcycles
Mopeds
Scooters
Choppers
Sports bikes
Dual-sport or dual-purpose bikes
Cruisers
Insurance companies have to keep their own business in mind and it is possible they will offer a low payment when a motorcycle collides with another vehicle or a rider is injured when the bike crashes with a building. A seasoned personal injury attorney knows how to help if you are struggling with injury expenses, including imaging fees for MRIs and X-rays.
Fault Cyclist for Weaving or Driving Recklessly
One thing an insurance adjuster may do in an attempt to reduce or deny a claim is to say the motorcycle operator is completely or partially at fault for the collision and resulting injury. They could say the cyclist was driving in an erratic way to weave in and out of traffic inappropriately. If the suggestion is not true, there could be a way to prove it.
A seasoned Miami motorcycle accident lawyer knows how to track down evidence and prove the need for compensation. With years of experience negotiating motorcycle accident claims and cases, personal injury lawyers know how to push back when appropriate. You do not have to accept an amount that is unfair and will not give you the financial relief you and your family need.
Are you stressed out because you are not sure how to fight for your rights after a South Florida scooter or cruiser accident? A knowledgeable Florida personal injury lawyer can help. With free consultations, our lawyers can determine if you have a right to damage recovery. We will cover your case from the beginning stages to securing final damage awards. Our attorneys at Spencer Morgan Law will fight for fair compensation. Contact us today at 305-423-3800 to schedule your free assessment.