Causes Of Electric Scooter Accident Injuries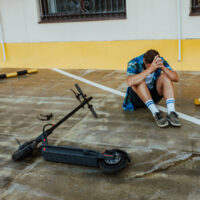 Many in Florida cities want to make eco-friendly transportation choices, and for some, the convenient answer is to travel around on an electric scooter. But while scooters can be an enjoyable way to travel, they also come with their own set of risks and dangers.
When scooter accidents and injuries occur, expenses can add up quickly. If you sustained an electric scooter injury on a Florida sidewalk or street, talk to a Miami personal injury lawyer about damage compensation.
Causes of Electric Scooter Accident Injuries
Just as there are many factors that can contribute to a car crash or motorcycle collision, there are several influences that can contribute to electric scooter accident injuries and, of course, some are more common than others. One of the most common ways that scooter accident injuries occur is through rider error or negligence, such as riding too fast, failing to follow traffic laws, or not wearing a helmet.
Other causes of electric scooter accidents include defective or poorly maintained scooters and situations with a distracted driver or poor road conditions.
Scooter Injuries on Sidewalks and Streets in Florida Cities
Electric scooter accident injuries can occur both on sidewalks and streets in Florida cities, and where the injury is sustained will influence the type of harm experienced. On sidewalks, riders can collide with pedestrians or other obstacles, causing injuries to both themselves and others. Riders may also lose control of their scooters or fail to navigate uneven surfaces or obstacles, resulting in falls and injuries.
On streets, electric scooter riders are vulnerable to collisions with vehicles, especially if they are riding on busy roads. Riders may also be at risk of being hit by cars when performing a turn or merging into traffic. Potholes, debris, and poorly marked construction zones also create dangers for scooter operators.
When It Makes Sense to Talk to a Miami Lawyer
If you have been injured in a Miami electric scooter accident, a Florida lawyer can help you understand your legal rights and options, as well as navigate the complex legal system. How you will move toward compensation will depend on the details of your accident. For instance, a lawyer can also help you if the electric scooter involved in your accident was defective or poorly maintained. In these cases, you may be able to pursue a product liability claim against the manufacturer or retailer of the scooter.
It is particularly important to talk to a Miami personal injury lawyer if your injuries are serious or require ongoing medical treatment. There can be incredibly high expenses if a person has sustained broken bones, head injuries, spinal cord harm, or other types of injuries that require surgery or rehabilitation. Often a lawyer is able to fight for the full amount required to cover accident expenses.
Who can inform you of the worth of your scooter injury claim? An experienced attorney can help. Electric scooter riders can sustain injuries on both Florida sidewalks and streets, and when they do, connect with a legal team. Talk to Spencer Morgan Law about your recovery options. Call 305-423-3800 today for a fee-free, confidential assessment.