Can A Whiplash Injury Have Long-Term Effects?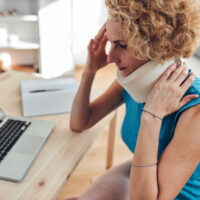 As a type of injury, whiplash is often misunderstood. It is a common injury as a result of vehicular crashes, sport accidents, and falls, but it has a reputation of being a small injury that is exaggerated in order for an individual to secure a large settlement from insurance companies. But the reality is whiplash injuries can have long-term effects for some accident victims.
Varying levels of severity are possible when a person is diagnosed with a whiplash injury. It is true that many resolve and heal over weeks and months, but other accident victims suffer for far longer. Chronic pain can be debilitating and negatively impact an individual's quality of life. To learn about how to achieve financial recovery while you are coping with a whiplash injury, have a conversation about your accident injury with a Miami personal injury lawyer.
Headaches, Fatigue, and Cervical Dystonia
Some whiplash sufferers report headaches and muscle spasms. These combined with fatigue from the injury and process of physical recovery can interfere with sleep schedules and make it difficult for individuals who have been involved in an accident to return to the day-to-day schedules they adhered to prior to the injurious event.
There are even rare circumstances when a traumatic event, such as a Florida vehicular crash, can lead to cervical dystonia. Trauma to the head, neck, and spine can lead to symptoms of dystonia. But while trauma is one prompt, there are also medical professionals who believe cervical dystonia is caused by a combination of inherited genetic predisposition and environmental triggers.
Having your health assessed after an accident is essential, whether you are experiencing fatigue, headaches or symptoms of cervical dystonia. Cervical dystonia is a condition characterized by muscle spasms and stiffness in the neck. Individuals with cervical dystonia can experience difficulty moving their head. They also may have trouble holding their head in a specific position. Health support is required.
Out-of-Pocket Expenses and Personal Injury Claims
If you have been diagnosed with whiplash and it is due to another's negligence, such as a reckless driver who caused the auto accident in which your injury was sustained, you shouldn't have to shoulder all of the expenses due to ongoing health care and missed work.
Whiplash is harm that is eligible for compensation, this means you can obtain financial recovery when another is liable. Hire a Miami personal injury lawyer to receive a full and fair financial settlement. Often a recovery package is possible through compiling facts and standing up to major insurance companies, but in some situations going to court is required.
Did you sustain a whiplash injury in a Florida accident? If your physical recovery is taking far longer than you originally believed it would, and your medical expenses are piling up, talk to a lawyer about how to access the amount you need to pay off all of your accident costs. The legal team at Spencer Morgan Law can help. There are attorneys available who will compassionately listen to your objectives and aggressively push for your needs. Call 305-423-3800 for a no-cost, confidential assessment.