Bicyclists Are Vulnerable to Injuries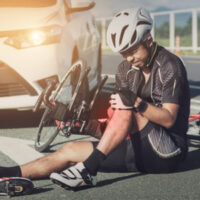 With the beautiful warm days, spring in Miami can be a great time to enjoy a bike ride. This is true for individuals with a destination in mind and for people simply riding for recreation. While biking is pleasurable, cyclists need to remember they are vulnerable to injuries when they are in accidents with larger vehicles, such as cars and trucks.
After an injury, speak to a Miami personal injury lawyer right away. It is important the individual who was at fault takes responsibility for bills following an accident. And, of course, take steps to prevent injuries before they happen.
Recovering Damages After a Bike Accident
Similar to other Florida personal injury cases, after a bike accident the negligence of a car driver has to be proven to secure compensation from the motorist. So, if the person riding the bike contributed to the accident, the ability to secure compensation may be diminished or blocked.
But, if it can be proven, there are ways Florida law can help people who have suffered injury or loss. Some of the things to secure compensation for follow:
Medical bills and expenses. Damages can be awarded for testing, treatments, stays within a hospital, and physical therapy.
Lost income. When a person is recovering from a physical injury, they likely are unable to work. How long an individual is unable to work depends on the injury. A lawyer can help a victim total up earnings and employment benefits that were lost due to the injury. In some instances, there is even the possibility of securing compensation for reduced future earnings.
Pain and suffering. Pursuing compensation for mental anguish and physical pain are also possibilities. The pain compensation is connected directly to the pain associated with the injury. The mental anguish component is to address the emotional suffering in connection with that pain.
Inspect Your Bike and Follow Rules
For their own safety, everyone bicycling should make it a habit to wear helmets and bright, reflective clothing. On the bike, install lights, reflectors, and bells or horns.
And if you are bringing your bike out for the first time in months, be sure to inspect the bicycle. This includes looking over the handlebars, seat, and breaks. It is important all of the bike is functioning and seats are adjusted, if needed, so the bike is comfortable. Discomfort leads to bicyclists taking their eyes off the road.
Of course, bicyclists always need to be aware of traffic signs and signals. This is true for any vehicle, but it can be tempting for a bicyclist to take chances that cars can't, because they are small and easy to maneuver. But weaving in and out of traffic creates risk. Instead, bike responsibly. Use arm turn signals when turning and stay to the right when riding, staying aware of the surrounding environment at all times.
Are you a cyclist who was injured in an accident? The qualified attorneys at Spencer Morgan Law can help. Our attorneys will help you collect evidence to prove the motorist was liable. Contact us today at 305-423-3800 to schedule your free consultation.
https://www.smorganlaw.com/florida-drivers-participate-in-distracted-driving/