Beware Of Dog Signs And Liability For Bites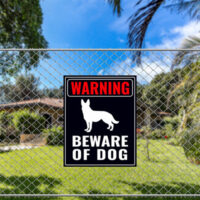 Animal attacks, including those resulting in dog bite injuries, can cause a lot of pain and require medical care. According to one report, Florida is one of the top five states when it comes to dog bites. This is an unfortunate reality, and animal injuries are emotionally distressing and can lead to high medical expenses.
While there are some protections in place for dog owners who have signs posted, they could still be held liable depending on the details of the injurious event. Connect with a  Miami personal injury lawyer to learn about what legal rights you have after an animal attack in Miami-Dade County.
Strict Liability and Florida Dog Bites
There are strict liability laws in place when it comes to dog bites in Florida. Essentially, this means a dog owner could be deemed negligent whether or not they were aware that the dog was prone to aggression. Some states have legal guidelines in place that protect dog owners from being held liable if it is the first time the dog has bitten someone aggressively, this is not true in Florida.
If you or someone you care for was bitten by a dog, whether the attack happened in private space or a public area, it is not your responsibility to prove they were a negligent dog owner. That said there are situations in which a dog owner can point to reasonable pet ownership behaviors in an effort to shield themselves from liability, including the following.
There was an unlawful entry onto the dog owner's private property.
Proper signage was in place when individuals entered a property, such as signs that say to beware of a dog or alerting the public to the presence of an aggressive animal.
Working dog was acting as trained, such as a military dog or police dog.
But each case needs to be analyzed individually, if a case goes to court and the dog owner is able to prove the person bitten provoked the attack, compensation could be adjusted accordingly. There are also additional protections for some people, such as children who are bitten by aggressive animals, for example.
Connect with a Skilled Attorney to Protect Your Rights
In short, if you were legally on a property and were attacked by an animal you did not provoke, talk to an attorney about damage recovery. To strengthen your claim, take photos of the injury and seek medical attention immediately. Then, there will be a record of the severity of the bite injury. A Miami personal injury lawyer can inform you of additional pieces of evidence that could be required as well.
Are you recovering from injuries connected to a Florida animal bite? You need to talk to a knowledgeable Florida dog bite lawyer. Our lawyers provide free initial consultations, so there are no fees upfront. Monetary damages for injuries and damages may be possible and we will represent you through the entire process. The attorneys at Spencer Morgan Law have years of experience fighting for client rights. Contact us today at 305-423-3800 to schedule your free assessment.